The decision on writing this tutorial was based on photos I've seen on ebay when searching for items to buy. I was usually barely able to see what they look like because of being so small. Or being photographed in such a way that I would get no idea what they actually looked like and disappointed a time or two after purchasing them. Sometimes I was disappointed as to the color being not just a wee bit off but truly not within the range of even acceptable color. Sometimes they are so dark I cannot even make out what the item might look like. I'll pass up buying that thing for sure. Now, knowing first hand how monitors can throw off a color so enough said on that and certainly taking that into consideration, it is also due to the "expertise/knowledge", or lack thereof, with the photographer's skill level. Photography can be very simple and easy. I should know because I'm far from an expert on anything in this world, but you certainly can have acceptable or even beautiful, lovely or fantastic photos with just a very few steps. The most common problem being lighting! I cannot tell you what a difference just this one thing can make for your photo shots.
Lighting is the most important thing when taking photos. My strongest suggestion to anyone is "let your flash do the lighting for you." Period. That's what it's there for: to "light" your object or scene.
All explanations are below each photo. While I know each camera is absolutely different, some settings are kind of universal. I can only speak to Canon because that's what we have in this house now. It's a great little inexpensive camera in the $200 - $300 price range and exceptional in my opinion. I'm not getting paid by any camera company to say anything, but I will tell you that I've known people with $1500 - $2000 cameras who displayed the worst photos imaginable. This is not due to any fault of the camera; it's due to the PHOTOGRAPHER and his or her skill in using it. This is truly not meant to hurt or put down but I can get better photos with my little Canon Powershot SD 750 than they can with a "professional" camera 10 times the price and all kinds of fancy expensive filters. Why? Because I took the time to read the instruction manual and see what the settings meant and could do for me. Easy and simple. I've had people tell me "but I have the most expensive and best camera money can buy." Fine with me, but their photos are barely visible. My aim is to never antagonize people. I'm only trying to HELP them get exquisite photos to show. I can assure you I have no agenda but helping you become the best photographer you can be. :-) I do this tutorial with a smile on my face and in my heart. I also wish you great success on your photography endeavors.
~*~
Okay, about now you are probably thinking "riiiiiight, but I just wanna click and shoot and be done with it", right?? I know what you're thinking because I've done the same darn thing, chicks! So to help you out (I am truly a gal who wants to help people when I can) I made this simple and easy tutorial for ya! See how nice I am. :-)<-------Smiling at ya......... Let me also say here that after a few times of adjusting the settings you'll be so "in the groove" of doing it that it requires 5-7 seconds TOPS of switching settings. Truly it does. And will make a world of difference in the photo. And let me say another thing (as if you could stop Miss Motor Mouth, hah!), if I could give just ONE piece of advice it would be "let your flash DO the lighting for you!!!!!!! It's just that simple. I repeat it I know, but it has got to seep into your head so I'll say it more than once sometimes.
Photo #1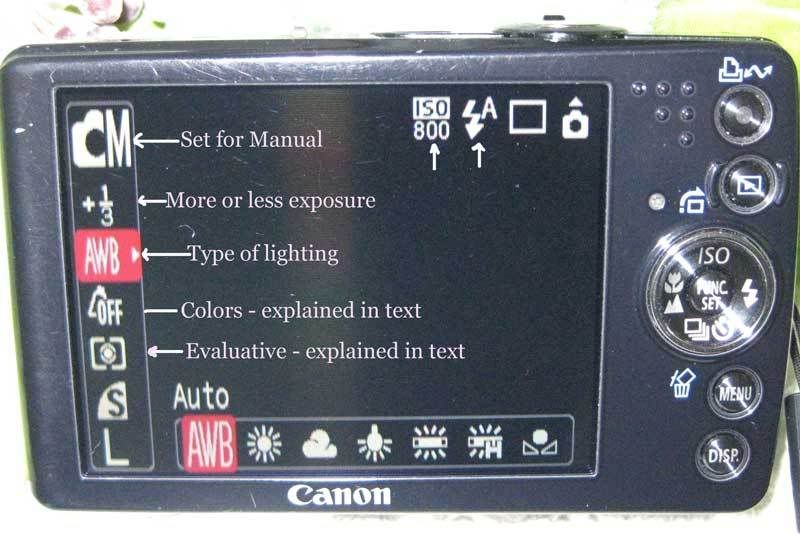 Here I've used my hubby's camera to photograph these screenshot tutorials. His is simply a newer version of mine. It's a Canon Powershot SD790 and cost about $50 more than mine. Terrific little cam, I tell ya.
The above screenshot is what shows on my camera at this particular moment and basically the settings I use probably 95% or more of the time - indoors.
Set for Manual: this simply means I control the picture taking. I press the button and it takes the picture. Just that simple. It's easiest for me.
*
+1/3: On this camera it selects more or less lighting. I can set it at zero (0) and take it to the left for less light or to the right for more light. -1/3, -2/3, +1/3,+2/3 and so on - more or less light. I use this frequently also - jumping up or down the light scale. Experiment with it. You'll get the "feel" you want and will be able to see if you are adding too much light or not enough light (with the flash!!!!!).
*
AWB: type of lighting. That is the setting that is highlighted on this screenshot. It is also known as "white balance." Get used to that term because anyone teaching you a class on photography will usually refer to it as "white balance." On that row at the bottom of the LCD screen it is set at AWB, which means "automatic" and what I have it on 95% or more of the time. I let the camera "work" for me AND it truly does and will for YOU. Cameras are just like a mini computer only in photography.
*
The next setting is "sun" and looks like a little sun. I use this outside in full sun. No need for flash outside in full sun. You'll see a huge difference in using this setting in full sun.
*
Next setting is "cloudy" and looks like little fluffy clouds and I'd use it on an overcast day.
Next setting is a light bulb, incandescent, and I can use it but I prefer (you're going to gasp here so beware) using absolutely no light whatsoever when photographing a room or an object in my office/computer room. (Bear in mind that a professional photographer would use extensive lighting all around the object or room but if you don't have that capability then "let the camera work for you.
Yessssssss, it's absolutely true. Most of my photos are taken at night in this room in the dark. I then edit them in my photo editing software. (My Mac uses iPhoto. I like it even better than my PhotoShop and iPhoto comes free on a Mac so if you have a Mac use it and save yourself some money.)
*
Next little icon is fluorescent. When I took most of the photos at Greenhurst Nurseries I used the "fluorescent" setting because that's what they had in there. It was the best I could do because some of the rooms had greenhouse-like ceilings which let some sun shine through, or natural light, with some fluorescent bulbs on also. I had absolutely NO or very little control over the lighting that day except with my camera. It did the job as well as it could and if you'd like to see those photos go to the site: Greenhurst Nursery Photos. They were kind and gracious enough to allow me to shoot for 2 days in their nursery.
*
The next little icon is fluorescent halogen. Yes, halogen is fluorescent. You would use this if you were in a room with halogen lights and get a fairly decent picture as the camera settings would "adapt" to that lighting. But I'll repeat: I let my flash do the lighting for me.
*
The next setting is a custom setting and it is probably only applicable to this particular camera. I have never used it though. The other settings do the job as well as I need them to do it.
*
Let me say here that while you may not have my exact camera some of these settings icons are very similar on cameras. Just look and see is all I can tell you. There are so many brands of cameras that I couldn't possibly speak about each one, let alone tutor in each one, but a lot of icons are universal in their meanings so check it out.
*
Colors: this icon setting is one I do not use and you might not even have it. It is for certain colors to be "vivid" but if you're just a casual user I'd not bother with it. Let's say you were shooting a home with a lush green yard and you wanted that lush green to be more vivid. With this setting on my camera if I set my color to "vivid G" then the greens of the lawn would show more vibrantly. With this setting I could lighten or darken skin tones or set it for a sepia tone on a particular photograph. I could also set it to be a black and white photo. Or set the reds or blue to be more vivid. I don't bother with it, so for the most part I'm just skipping over it. I'll give you a peek at two I did to illustrate my point. One is sepia tone and one is black and white. I did both of these with the exact same setting you see on the above screenshot with the only exception being that I turned my "Colors" to sepia and black and white for each picture. Absolutely nothing else changed. Aren't digital cameras wonderful?!??! I'm so glad I'm alive when these things were invented.
Photo #2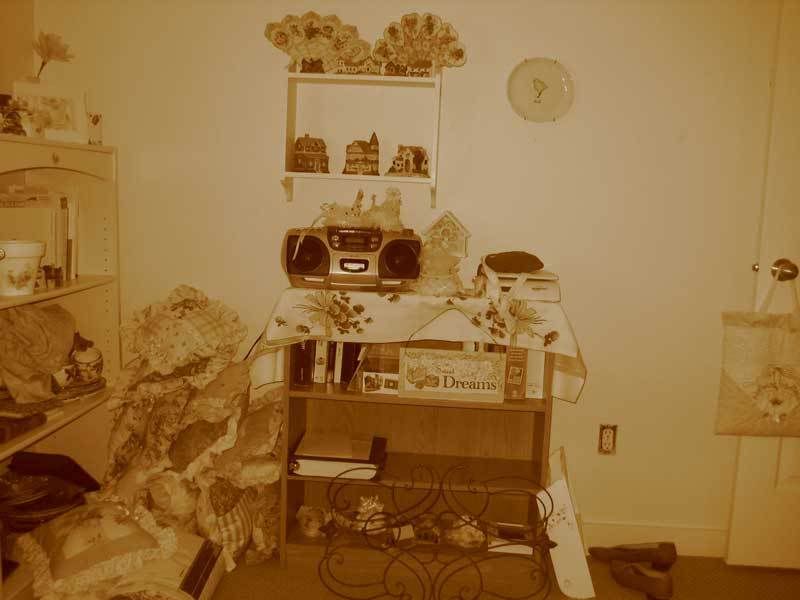 Photo #3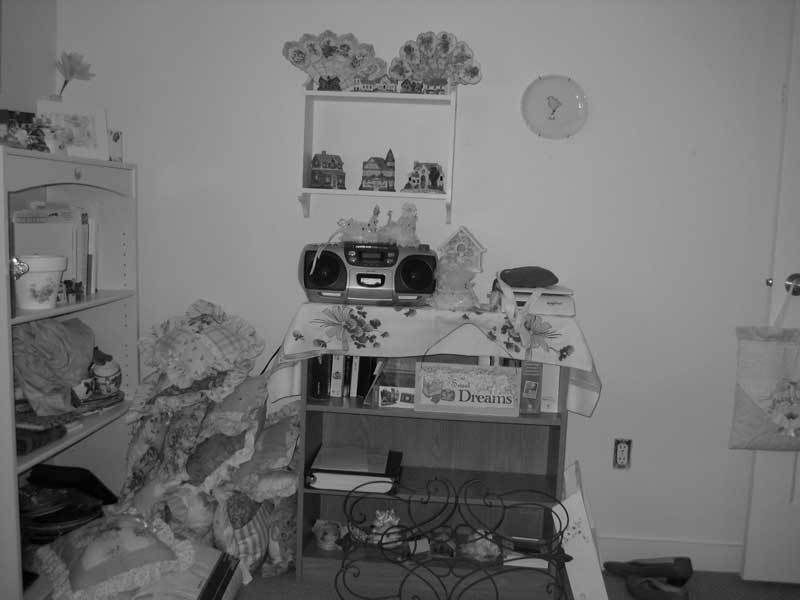 ~*~
Evaluative: this "meters" or "concentrates" the light. You can get by without ever touching this so while everything is important this isn't going to "make or break" the shot. If you're truly interested then check your own camera instruction booklet and read. I'm only giving you the "mostest" important things.
~*~
The next icon on the left that looks like an "S" in a 1/4 circle says "Auto" because that is where I have it set. I set it to "superfine", thus the "S", so I can get as many pixels out of the camera shot as I possibly can. The higher the pixels the better the picture. Consider that sentence repeated because pixels are absolutely important to your photo. The higher the pixels you set, the fewer photos you get out of the disk. BUT since I have a 1 GB (gigabyte) disk in my camera and download practically after every single photoshoot and once they are safely in my photo program on the computer and I delete them from the camera, then getting the "most" photos out of a disk isn't a concern; I care more about the pixels. And my disk has the original amount of space on it - 1 GB. I start "fresh" again on that disk. Pixels are what "make" up your photographs - digitally. That's what you want the "most" - pixels! With this "superfine" setting I can get over 300 photos in one photoshoot and that's plenty for a non-professional camera user. I have this desktop Mac I'm using at the moment and is my preferred computer and my laptop I use when we travel. Camera and all its accessories go with me in a little pouch about 6" x 7 1/2" that slings over my head and is easily carried when we travel . Then I download them at the end of each day. You could get a 2 GB disk for under $30 easily at WM I'm sure. You'd have to do a whooooole lot of shooting to use up the storage on a 2 GB. The 1 GB is truly sufficient for me and it only cost me $10.88 at WM.
~*~
The "L" might be unique to my camera but I do know you have something similar on your camera. It also refers to the pixels for the photograph. I want the largest photo I can get. On my Canon they go like this: 3072 x 2304 for large (L), M1 (medium) is 2592 x 1944, M2 2048 x 1536, M3 1600 x 1200, S (small) is 640 x 480 and a few settings for "special sizes." Hubby's camera - the SD790 has a higher setting of 3648 x 2736 pixels and I'll use that if I want to get a "close crop" and have it a lot bigger but that's very infrequent. I always leave it on the absolute highest I can get because that's what gives you the best pictures.
*
At the top of the LCD screen is an arrow showing you the ISO speed. ISO on a camera is the speed of your shutter. Raise the ISO speed to use a fast shutter speed when you wish to reduce the effects of camera "shake" or avoid blurry subjects. I have it set at 800 but I'm going to change it to "auto" and let it adjust for me automatically. It will adjust higher if needed so that's a no brainer. Auto is fine, chicks.
~*~
Next to the ISO is a little icon with an "A" and a lightning bolt. That is the flash. Most important thing on the camera as far as I'm concerned. Again, I have mine set to "auto" and that takes care of it. If the photo doesn't need it, then it simply doesn't flash. If it does, then it uses it and flashes. Simple, basic and another no-brainer. I'd set it to "auto" if I were you.
~*~
The little square icon means "single" shot on my camera. Yours might not even have it so it won't be discussed here. I could set my for single, continuous or self-timed. I set it for "single" because that is my preference. No big deal so no further discussion here.
~*~
The far right top icon that looks like a little camera with a triangle over it is not important. It's for "auto rotate" but doesn't make a huge difference if you're just a casual photographer shooting pictures for ebay or blogging. I shan't go into that.
~*~
Just to touch upon one other thing also is the distance from which you are taking the photo. See screenshot below:
Photo #4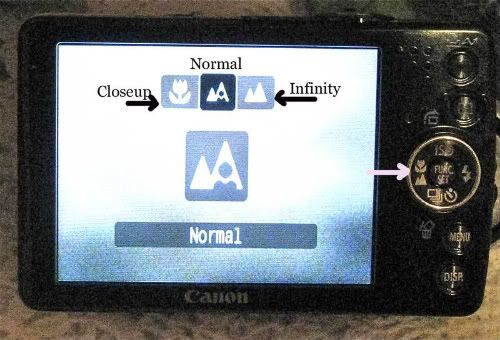 All of our cameras have had 3 settings. I don't know if they all do but we've had 5 cameras and they've all been the same in that respect. So I'm only speaking about the 3 settings I've been familiar with: Normal, Closeup
or
Macro and Infinity. I think they are self-explanatory but I'll just say it here for safety's sake. Normal is just that - being in a room or relatively close quarters. Closeup or Macro is for extremely close pictures which I've done here. Infinity is what you'd take when looking at a landscape, mountain range, lake or that sort of thing or in other words - distance photos. I have to explain though that these photos taken were originally 3648 x 2736 pixels coming off the camera into my photo editor (iPhoto) and I cropped them down to 800 proportionately using PhotoShop. That means I want them to be the exact same in proportion or in other words, I wanted them to all be exactly 800 pixels
wide
across so that made the
length
go into exact proportion down also and not be "distorted - such as this one where I didn't click "proportionately" in my PhotoShop and just made it 800 pixels wide. That distorted it to look like this:

If I had not cropped them they would have filled the screen of even MY Apple Cinema 20" monitor! So someone on a 19" monitor would be seriously scrolling sideways also! Plus coming off my camera they were 4.4 MB. What I did took them down to 64 KBs. That a HUGE and significant difference - .015 difference. See what I mean?
~*~
My daughter had an expensive camera but she could never figure out the settings and her photos were horribly dark. I don't recall the name of it but it was ridiculously ineffective because she could not make sense of the settings. I recommended the SD790 to her a couple of months ago and she got one. I think she likes the new one much better.
This is as absolutely basic as I can get. This little tidbit of information can and will make a huge difference in your pictures. Even if you are skeptical, please practice what I've said here. Just take pictures using the different settings and see what you can do. You'll truly be amazed at the difference if you get the correct settings
I truly want you to succeed at being the best photographer that you can be. I'd also love to hear from you on any comments that might help make this even more effective for you. Just get in touch with me on my blog Profile page where my email is. I'll get back to you and answer any questions you have if I can answer them.
Connie
http://connie-livingbeautifully.blogspot.com