Since I've had several requests on how to make the little clip-ons for shoes I decided to just do a tutorial on it. They are really very easy and can be done with ribbon or even fabric if you're very creative! For the sake of expediency I'll show it done with ribbon in 2 styles: bows and ruffles. I did the photos very quickly and didn't adjust for lighting as it's a bit difficult when trying to photograph using only one hand and also because of the wood look formica on my craft room desk top.
~*~
I used 12" of the ribbon and it turns out to be just a tad less than half of that when finished. So cut a 12" length of ribbon.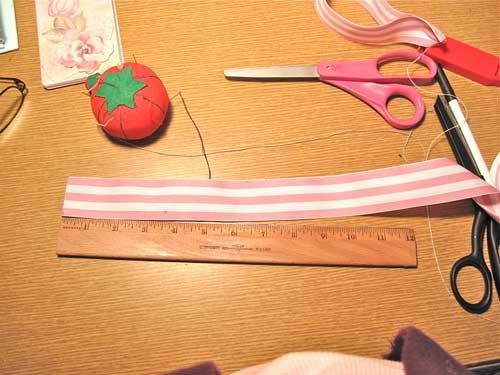 Then fold in half and stitch a small narrow seam either by machine or hand. It makes no difference. Just a
flat
seam. It looks gathered here but it isn't really. Make sure it's
FLAT
. Then turn the ribbon so the stitching is inside and the seam is in the middle.
The "stitching" will be on the "down" side of the bow. It looks a bit gathered here but that's because I hurried to do this. It should be nice and flat though. This photo is the "down" side or the side which I'll apply the Velcro to when finished.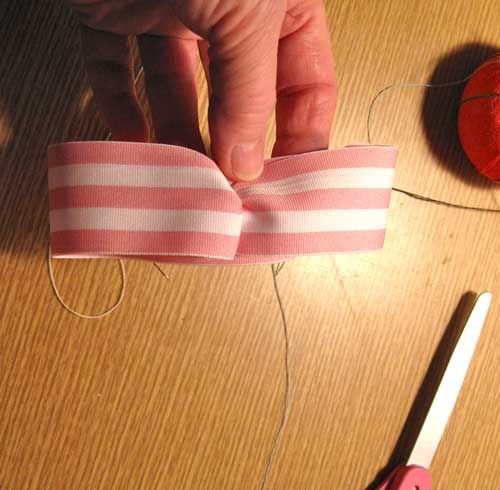 Then pinch it together nicely so that the "indent" is "down" in the middle of the strip of ribbon. Play around with the placement of the "indentation" to get a look you desire. The one below is what I've seen on shoes in the stores when it is actually incorporated into the shoe at the factory. I usually take a hand stitch here to hold it in place. It will be wrapped in next step, but the "indents" will show and make a difference in how it looks when finished.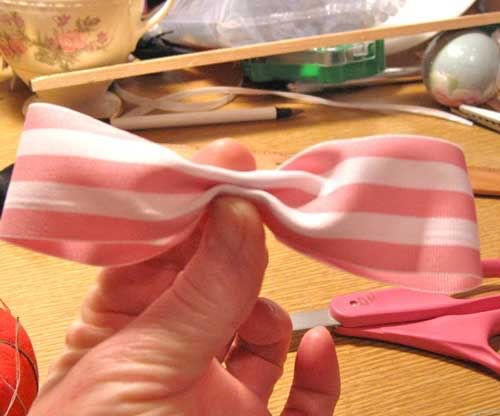 Now you will cut a piece of the ribbon about 3 - 3 1/4".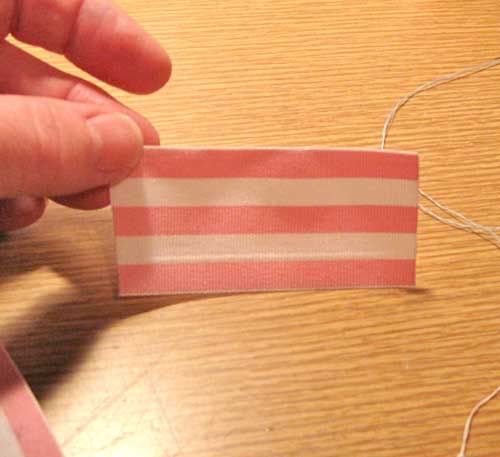 This piece will wrap around the middle of the "bow" now.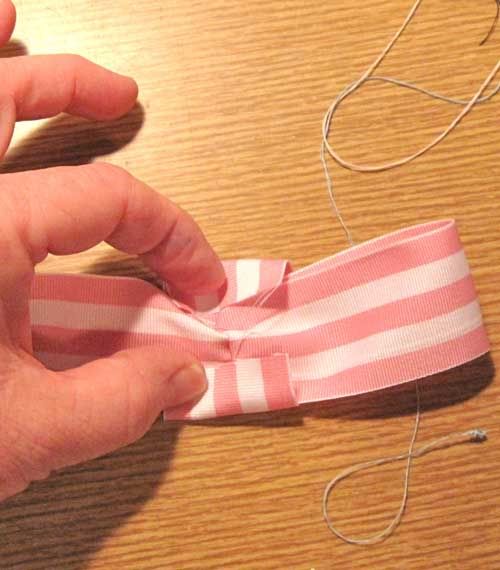 But I tuck the raw edges under here and then sew it together while holding it tightly. I like my bow middle nice and tight.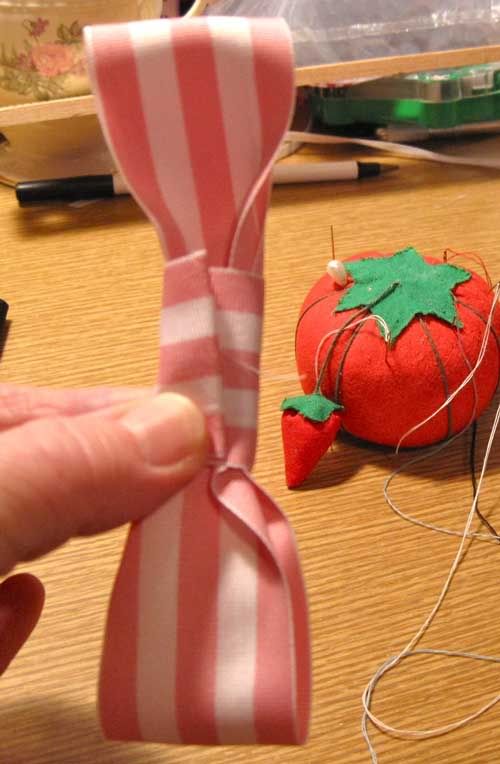 The finished bow will look like this. This is a fabric one I did but the result would be exactly the same look with ribbon or fabric.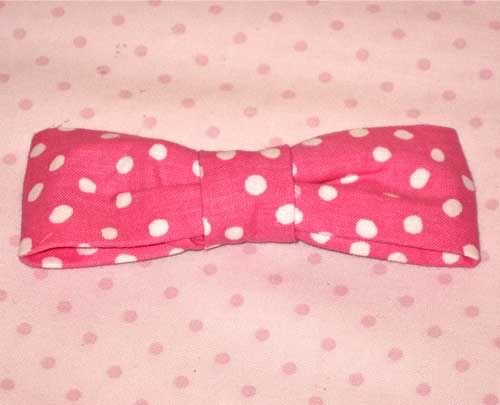 Next will be applying the velcro strip. I buy the double sided sticky velcro in black and in white also. It most likely will not be seen when done properly so it really doesn't matter. But I cut the velcro down the center
lengthwise
for two reasons. One is to save money but the primary reason is that a bow isn't 1" wide and it would show. So I get to use one strip for both shoes by just cutting it down the center. Saves velcro. It really doesn't matter which side goes on the shoe and which side goes on the clip-on. I prefer the "loopy" side on the shoe and the "flat" side on the bow. Just my preference. Oooh, who the heck am I kidding here?!?! I did it this way on the very first pair and since the bows are interchangeable it has to be the same way for all shoes and bows or you'll have 2 "loopy" sides together and they won't
STICK!
It doesn't matter as long as one side is for
ALL
bows and one side is for
ALL
shoes!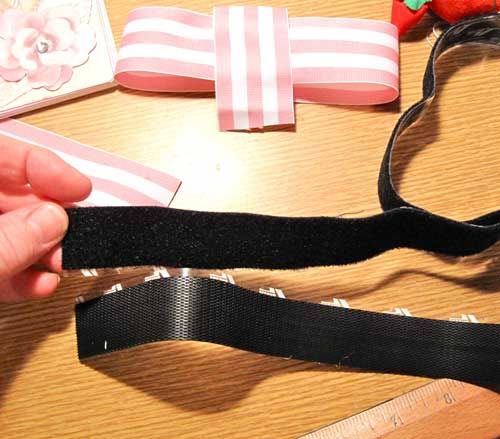 I try very hard to cover as much of the bow as possible because it makes it lay flatter and gives a better appearance in my opinion. So I cut the "loopy" side and the "flat" side together so I know it'll fit. A 6" finished bow seems to cover my shoes best but you may have to experiment depending on the shoe.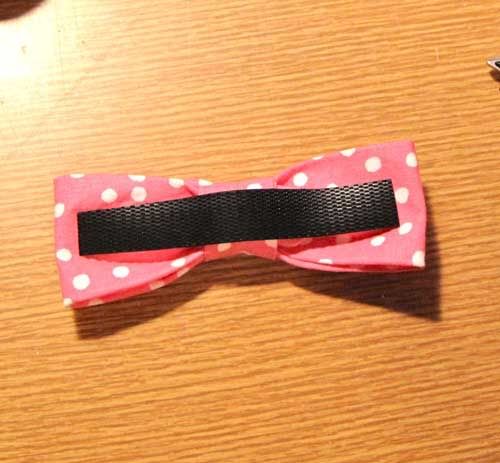 Then I apply the part to the shoe and make sure it's secure. Now, I have to tell you that it will definitely hold secure, but it will pull off easily if you want it to. I've had no problem with it ruining any shoe but I'll not guarantee it. I've only worked with leather and a patent leather. If it does come off I put it right back on. I'm sure at some point all the sticky glue will not hold but no matter because I'll just put a fresh piece on there if that happens. It's what works for me. I cannot find those earring type clips they had when I was a teenager back in the 50s. This is how
I
do it. I then attach the bow to the shoe and have a different look with each clip-on. I can make a black, a white and a red pair of shoes look like many different shoes with just a switch-out of clip-ons.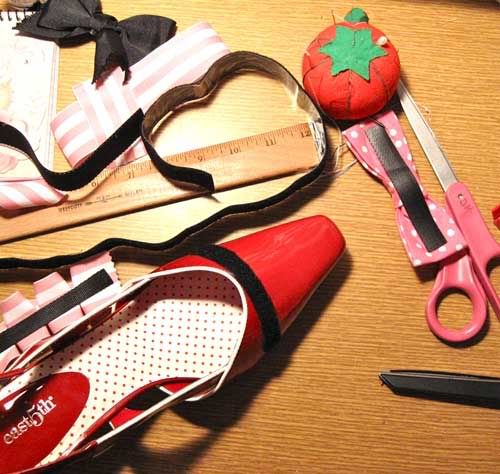 This is how it looks on the back. I'll talk about the ruffled one below.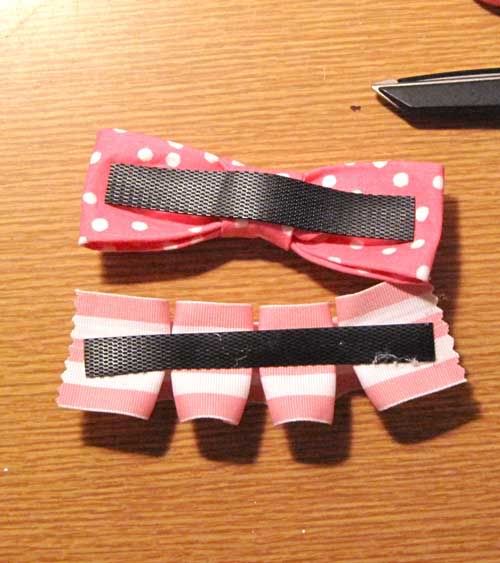 The ruffled ones are just as easy. Here is an upclose look at how it is done. I simply pleated it. For a 3 ruffle clip-on I used about 7 1/2" and then simply folded it evenly into 3 "pleats" and after pinning in place I sewed down the middle. (I'd cut long here because you can always cut the edges off again with pinking spears but if it's too short, it's no good at all.) I cut the edges with pinking shears and put Fray-Check on the edges and then applied the Velcro after Scotchgarding it to protect it. But they are truly inexpensive to make and you can make many, many of them. Add buttons or charms for another "uniquely you" look. No one else will have the exact same pair!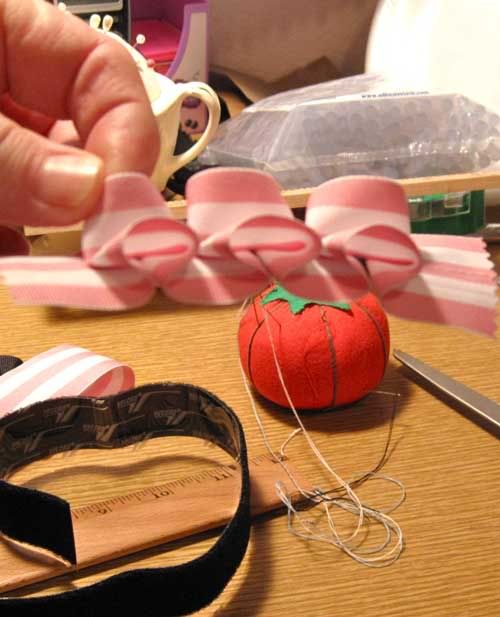 Each "pleat" is about 1" measured on the top part.
Now go and make some and have fun with it. My next pair of clip-ons will be lace and paper flowers. Just wait till you see these. Yes, they will be on my blog!