Go to bottom for the update.

I use

bighugelabs

for my mosaics instead of Picasa. One reason is that I'm on Macs and the Mac version of Picasa is in Beta, which means it's in "testing" stage and I cannot get it to work properly no matter what I do in sizing the pictures. Plus BHL's seems much easier to me and gives me more freedom with colors. But BHL's seems to work just fine. So that being said, let me show you how to use it.


Start by going here:
http://bighugelabs.com/mosaic.php
That takes you to the mosaic page. As you can see on the screenshot drop-down menu I selected 4x4 with large center. That will center one of the pictures and surround it with the other 12. The very first picture you select will be the middle picture. So you will need 13 total photos for this mosaic. After uploading them to Flickr (which I belong to and recommend it to you also for this application) you will then select one for each of the "slots" on there until you've got 13. I wish they would make it available for fewer photos like 7 or 9 but it is what it is and there's nothing to be done about it.

For the background color (#ffffff is white and I like pink so I select a pink color by clicking on the little square where a color wheel appears and you can pick your desired color.

On "Space between images" I like 5 pixels. Choose what you prefer whether it be 0, 1 or whatever—up to 20, but 5 satisfies me.

Screenshot #1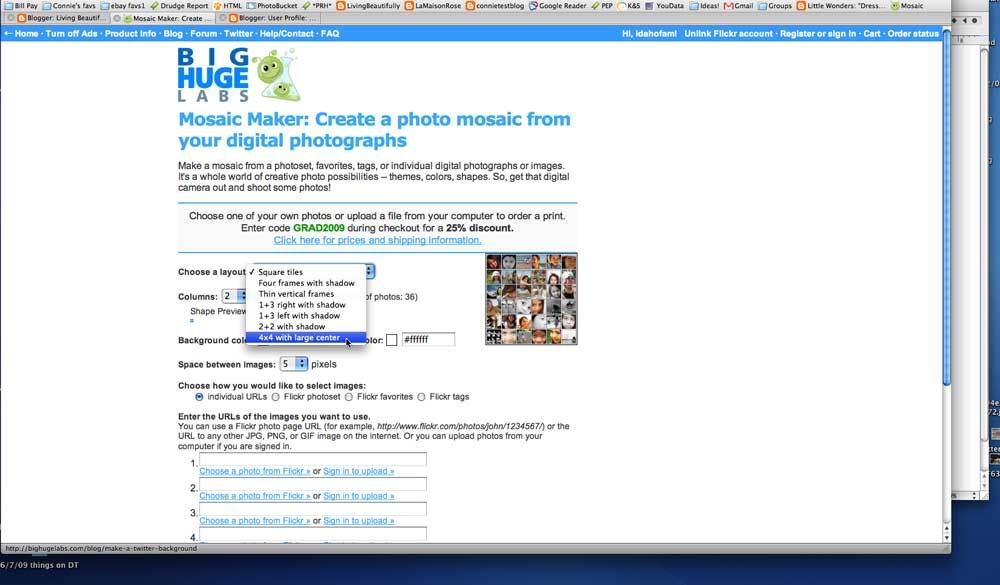 ~*~


On "Enter the URls of the images you want to use" I use the "Choose a photo from Flickr" and after uploading all the photos I want by entering the URL into each "slot" then click the "Create" button and it will do its work in the background and show you the finished mosaic.

I then drag it to my desktop (On a Mac, just click, hold and drag to desktop. On a Windows machine it might be right click and save somewhere. I am not that familiar with Windows since we use 3 Macs and rarely use our 2 PCs even though I run Mac OSX and Windows XP on my Mac laptop.) Anyway it is then available for me to resize it in PhotoShop down smaller. I would resize it to 800 proportionately. In other words, if I resize the horizontal I want it to resize the vertical "proportionately" so as not to distort it. A 1600 x 1400 would be 800 x 600 pixels wide. It's NOT even but is definitely proportionate. If you choose to not reduce it in size that's fine as it will still appear on your blog as the size you selected for all your photos to appear on your blog, but if someone clicks on it, it will be huge in size and KBs and may take longer to load. That's all it will do, so if you don't want to resize it then leave it. It just takes longer to load for bloggers to view. That's why I'm very careful in what I do on the internet. I have been to bloggers that are so "picture heavy" that it takes several minutes to load. That happens when you don't reduce the size in pixels. Plus if you have a lot of pictures, which a lot of bloggers do, then it can take considerable time to load.

Screenshot #2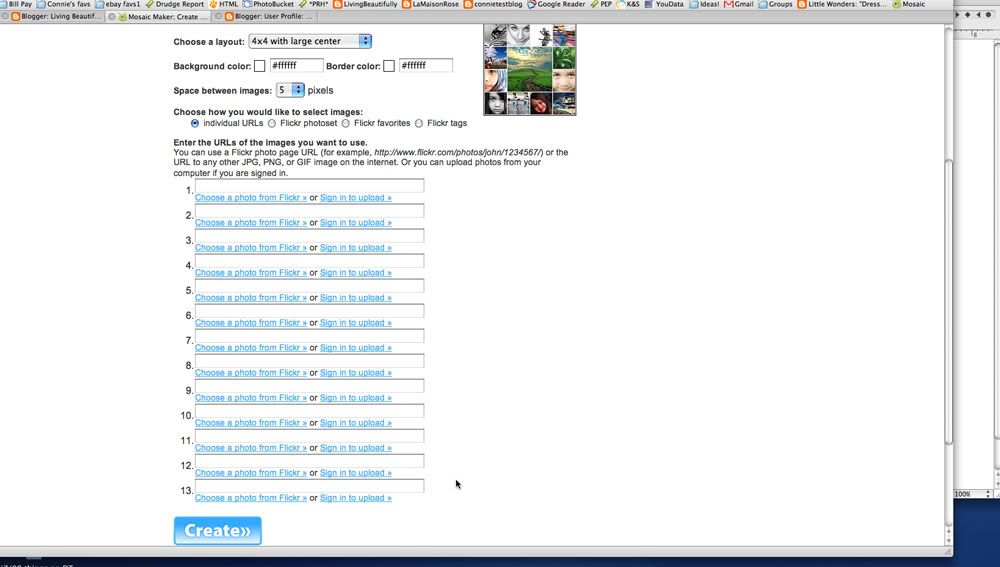 ~*~


Remember, the very first picture you choose will be your center picture. I have tested this about 4 different times and that's how they come up in each one I've made. So in the #1 slot put the first picture and it will automatically be the center. Then it counts across the top from the 2nd picture to the last picture left to right—top row, second row, third row and bottom row. So you do have control over how you might want to "frame" the center picture.
This is my finished mosaic example with just random photos of my rose garden for my blog.
~*~
Update for 7/7/2012

Picasa now had a version for Macs. BUT when I downloaded it from their website, it immediately started downloading every single photo on my Mac, iPhoto, Pictures, everywhere there was a photo, thousands of them. I like privacy and only put ones I want on image hosts, not every single one. So, I immediately went in to my Applications and deleted Picasa. I don't want my privacy violated. I only put on the internet or my blog things I want on there. I value my and my family's privacy. With the technology of cell phones, someone/anyone can violate privacy with one "click" and I do NOT like that. So just beware before you use Picasa. I have used Photobucket for many years now and love it. I also mark my albums "Private."
So I now use the photos from Photobucket and I use the URL, which is the Direct Link on PB—not the HTML Code underneath the photo, to post it onto BigHugeLabs. Easy. Try it.

If you have any questions I'd be happy to help you if I can. Just email me at the email address on my Profile page on my blog: connie-livingbeautifully.blogspot.com