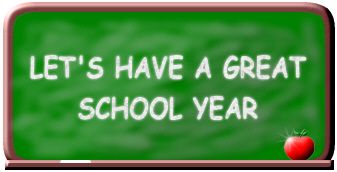 Welcome to 5th Grade! I am so glad to be your teacher this year and look forward to having you in my Religion, Science, and Math classes. We will be learning so much in many different and interesting ways.
Here is general information to help everyone have a great school year!!
Contacting me:
If you have any questions or concerns, please do not hesitate to contact me. You may email me (kpritz@stjpschool.org), send in a note, or call the school office. I will always get back to you as soon as possible.
A note about notes:
If your child is absent from school, a note must be sent in to keep in his/her file. This is a state law. If your child will be going home a different way than usual, please send a note. Please be aware that many bus companies have strict regulations about non-township students riding the schoolbus. If your child plans to go home with another child who rides a bus, please check the the company's policy.
Homework policy:
Homework will be assigned in each subject area during the week. Students are responsible for copying down their homework from the homework board each day. Homework will also be posted on the homework link of the classroom web page.
Students should spend time each night reviewing subject material even if there is no written homework. Written assignments should be completed neatly and on time. Failure to do homework will result in a 5-point deduction on the student's Organization Grade in that subject. This grade will count towards the trimester grade for that subject. The student will also have to stay in at lunch to complete the work.
Tests & Quizzes:
Students will always be notified 3-5 days in advance about tests and quizzes via the homework board. It is important that the children review their notes each night rather than "cramming" the night before a test. If a child is absent on the day a test or quiz is given, s/he must come to see me to set up a time to make up the missed test. It will generally be the day s/he returns to school, depending on the length of the absence.
Most of the notes that the children will take in class will be available in the power point presentation that will be posted on my "other" page at the end of the chapter.
Projects:
Projects will be assigned in each subject area during the course of the trimester. Some projects will be completed (all or partially) at school, others will be completed at home. Ample time will be given to complete a project if the student budgets his/her time wisely. A grading rubric and directions will be given to the children when the project is assigned. Any project that is not handed in on time will receive a 5 point deduction from the project grade. I will also notify parents via email if a project is not turned in on time. If a child is absent on the day a project is due, it should be turned in on the day s/he returns to school.
5th Grade Curriculum:
Religion ~
book: Sadlier We Believe (

www.webelieveweb.com

)
the bulk of our curriculum is a study of the Seven Sacraments. We will also cover: the Liturgical Year, the Blessed Mother and the saints, types and purposes of prayer, and Social Justice issues
Science ~
book: Scott Foresman Science (

www.sfsuccessnet.com

)
Units of study: 1) Astronomy, 2) Energy, 3) Human Body Systems, and 4) Ecology
Math ~
book: Houghton Mifflin Harcourt Go Math! (www.hmhschool.com)
Common Core Standards Grade 5 Overview: Operations and Algebraic Thinking, Numbers and Operations in Base Ten, Numbers and Operations-Fractions, Measurement and Data, Geometry
I would like to take this opportunity to thank you for sending your child to St. Joseph the Protector School. It is my privilege to be entrusted with educating your child in their faith and in their academic subjects. Together, we can make this year a wonderful time of growth and learning!
** For monthly information, please go to my "Information" page.