The New Blogger Interface
April 25, 2012
If you are viewing this at the moment, it's NOT done. I'll be working on this the next several days. Connie, 4/26/12 at 8am MST.This takes a good deal of time. But, welcome! I'm sure this will help you. If you have any questions, go to my website at http://connie-livingbeautifully.blogspot.com and click on the icon to email me.

This red paragraph will change as I update it. You'll know because I'll put in a new DATE each time below the original date of 4/25/2012. Just so you'll know each time I add something different. When I've completed the tutorial I'll put it in here also. I'm just now (4/26/12 @ 11:30 am) making the screenshots 1200 px wide instead of 1000 px wide for better viewing. Update are always at the bottom to flow more smoothly for newcomers.

Another update at 4/26/12 @ 5:30 PM
Another update on 4/27/12 @9:10 PM
Another update on 4/29/12 @ 12:45 PM
Another update on 5/1/2012 @ 11:15 AM — Go to bottom for the updates.
An update 5/28/2012 @ 4 PM — go to bottom for the update.
An update 7/8/2012 @ 6:30 PM. Go to the bottom for the update on photos and storing them.

*

As of April 2012 a new interface arrived on Blogger. Many of you are discouraged and angry, but there's nothing to do about it. It's new technology and will probably change again in the next few years as ever more technology advances. So I'm doing this tutorial to help those of you who aren't familiar with it. I wasn't either and am not fond of change, especially when it is forced upon me. That being said, let's learn to embrace it and go forward and get to know it.
First off, a word of warning. The old blogger interface was more colorful and the Publish button and Preview buttons were a lot further away from each other. Now they're two buttons away from each other, and it can be very simple to make a mistake and hit the ORANGE Publish button instead of the clear/white Preview button. Once it's published, it's published. Nothing to be done about it. So let's start with some basics. For those of you who are completely unfamiliar with Blogger, I should suggest you go to this TUTORIAL I made a couple of years ago to familiarize yourself with the absolute basics. I think it will help you a great deal to read this. I'll use screenshots for everything because I believe visuals are very, very important. I've preserved some of my privacy however.
Screenshot 1

Old blogger view. This was the old posting view.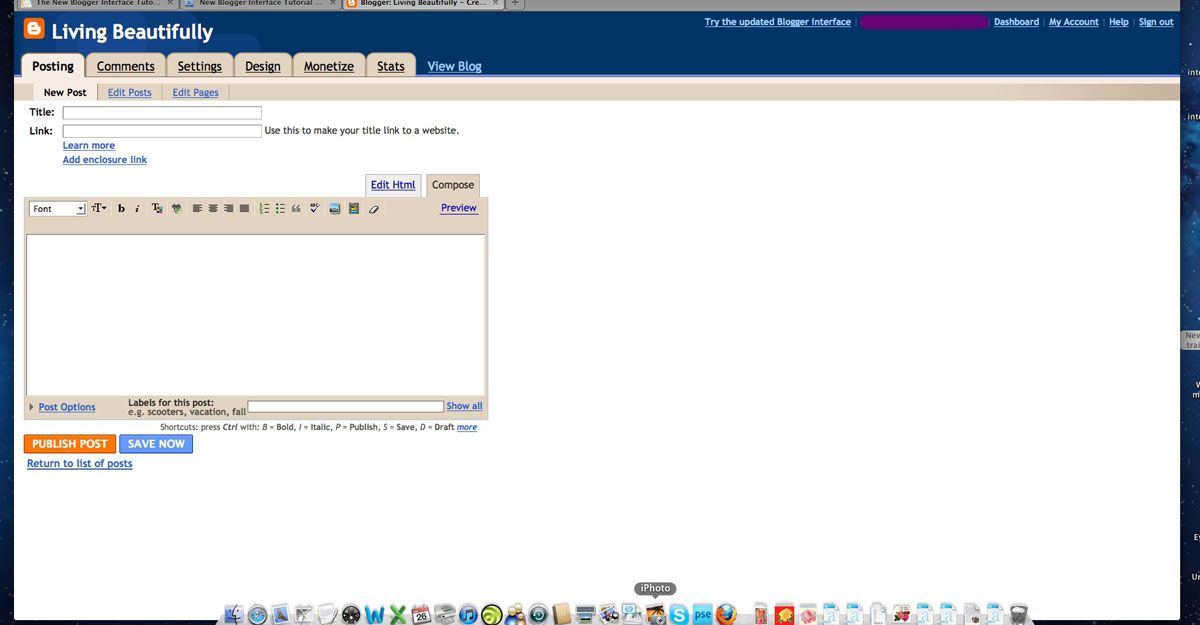 *

Screenshot 2

Another old blogger view. This was the old view to see all the scheduled posts and to edit your posts. This is very, very different from the new interface.
*

Screenshot 3

New blogger interface view.
On the right side of this screenshot it shows the Options. I think you can see them clearly enough to see that you can allow comments or not. It's the other options I would be concerned about if you are NOT familiar with HTML. If not, do not touch it! Just use the Compose mode you see on the left side of this screenshot. It's sort of highlighted (darker than the HTML button to the right of it). When you are in HTML mode that little window becomes a huge window with no tiny arrow at the bottom. BUT when in the Compose mode, that little arrow at the bottom of the small window extends it down to the bottom of the page if you click it. I do that because I like working in a large window. It's not any wider but much longer. I sometimes use a template so I have more control over it and I know how to use it.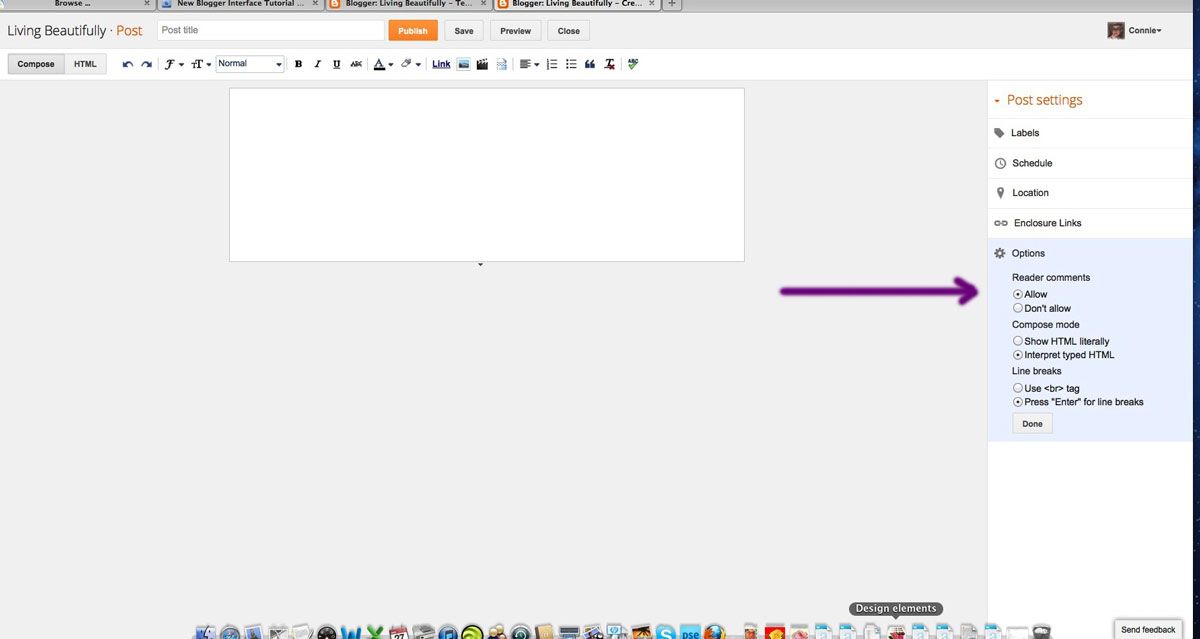 *

Screenshot 4

Another new interface view.
On the right side I've clicked on Options so you can see where to schedule the post now. If you don't select a time, it'll publish immediately when you hit Publish. I always, always schedule mine for a future date, at the moment I start a new blog post. I do this because I inadvertently published a post before I had even finished composing it once and it only takes once for me. This is now the very first thing I do when creating a post. So if it does publish because I accidentally clicked Publish, it will be at a very far date in the future. I usually put in the date 12/31/xx of the end of each year except when I get near the end of that year. Then I put in the 12/31/of the next year, just to make sure it isn't published before I want. (These are merely suggestions for you from personal experiences.)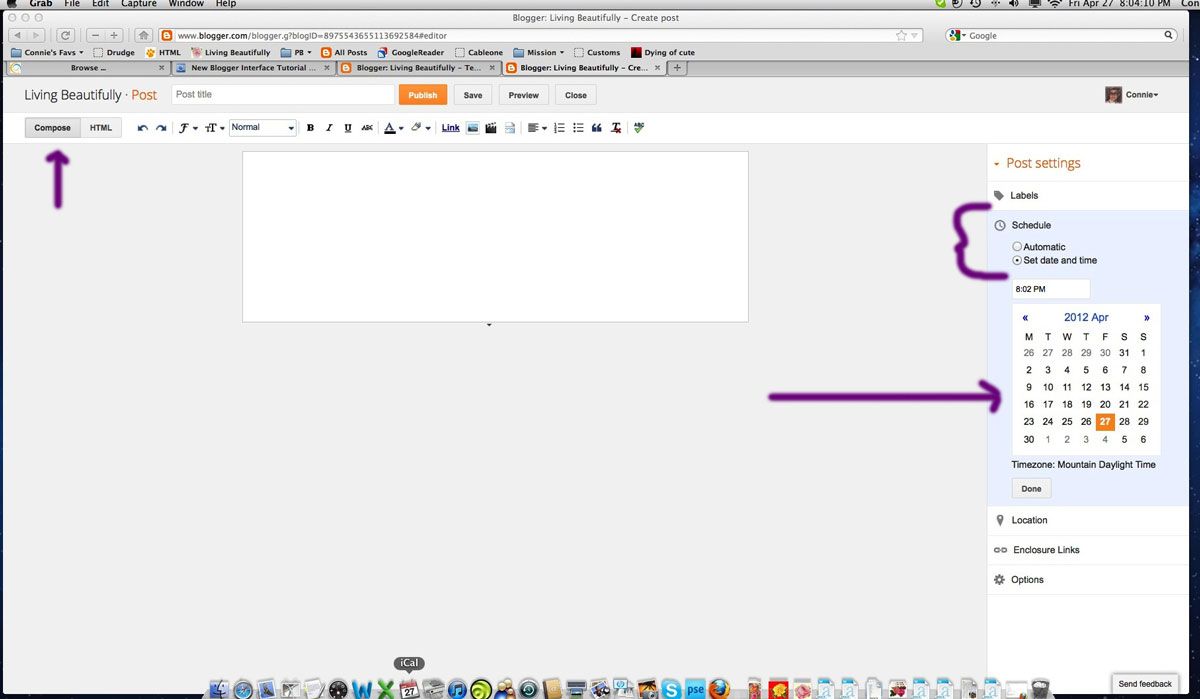 *
Screenshot 5

This is a screenshot of the new interface showing your posts that have been published and the ones scheduled in the future. They are top to bottom newest (scheduled but not yet published) to oldest (published). As you can see in the upper left hand side the little pencil icon is what you would click for a new blog post.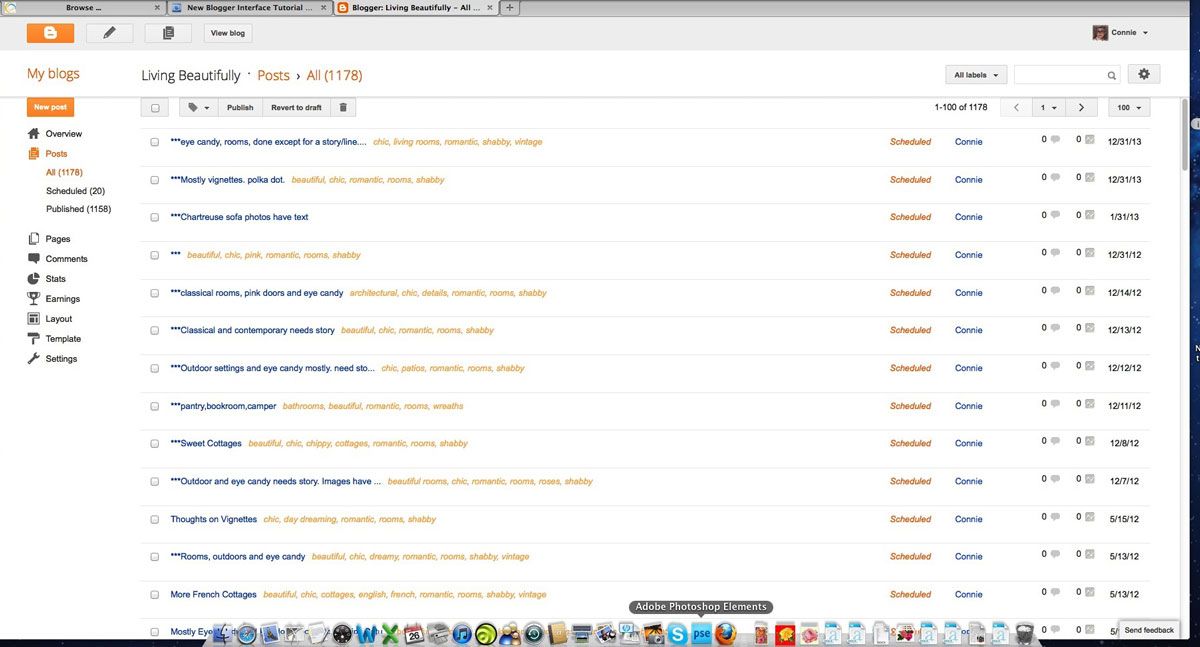 *
Screenshot 6

This is a screenshot of me entering photos via a URL from my Photobucket.

*
Screenshot 7

This is a screenshot of me actually uploading from my computer desktop (Could be from anywhere on your computer I just prefer saving mine to the desktop sometimes for things like this.) You hit the Add selected down on the bottom right and it adds it to the post.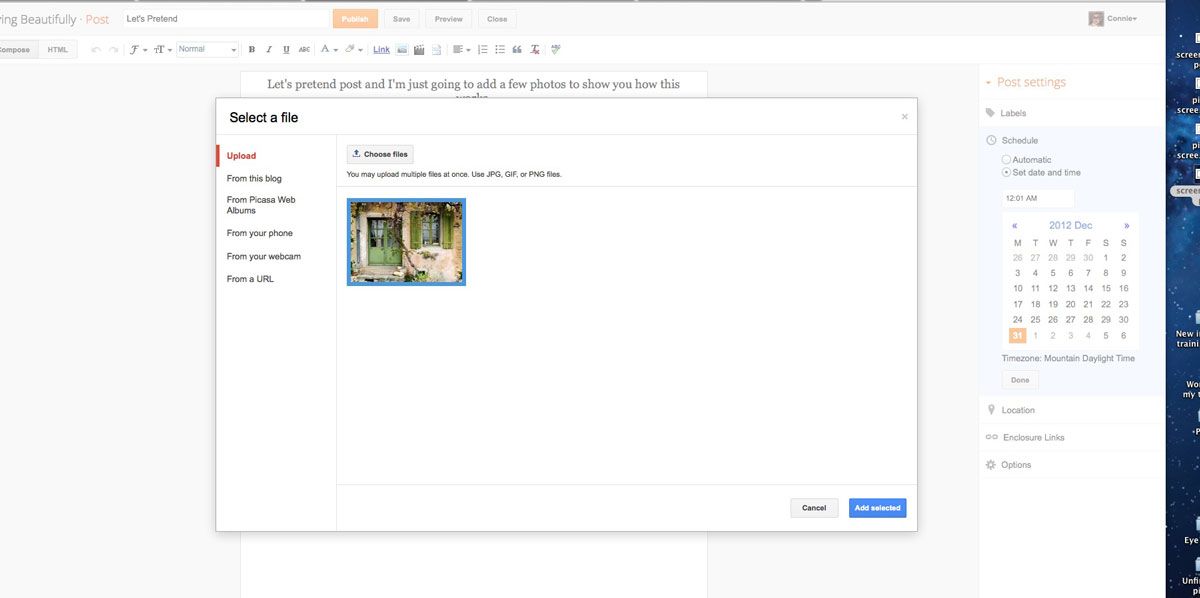 *
Screen shot 8

And this is what my template looks like with the HTML mode. Very, very different from the Compose mode.

*
There will be more later. I'll show you how you can make your own template and have control over most of everything on your post.
Signing out, Connie 4/26/12 @ 7:10 PM, MST.
Screenshot 9

I'm doing this on the fly, so to speak, as I come across things. One of the things I've been trying to find today is how to change my comments count. I hadn't changed that part of it since I started blogging so it was hard to find on the new interface. Below is a screenshot of what I'm talking about.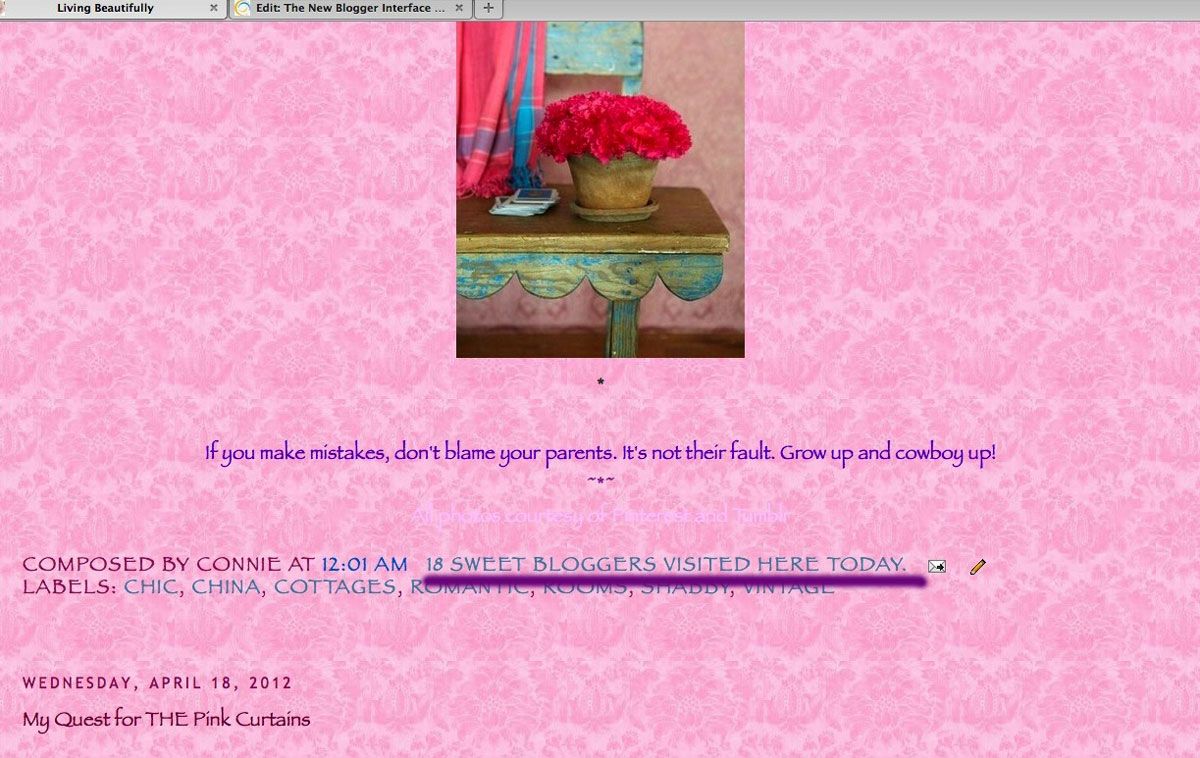 *
Screenshot 10

This is where it's now found—under Design>Template>Customize.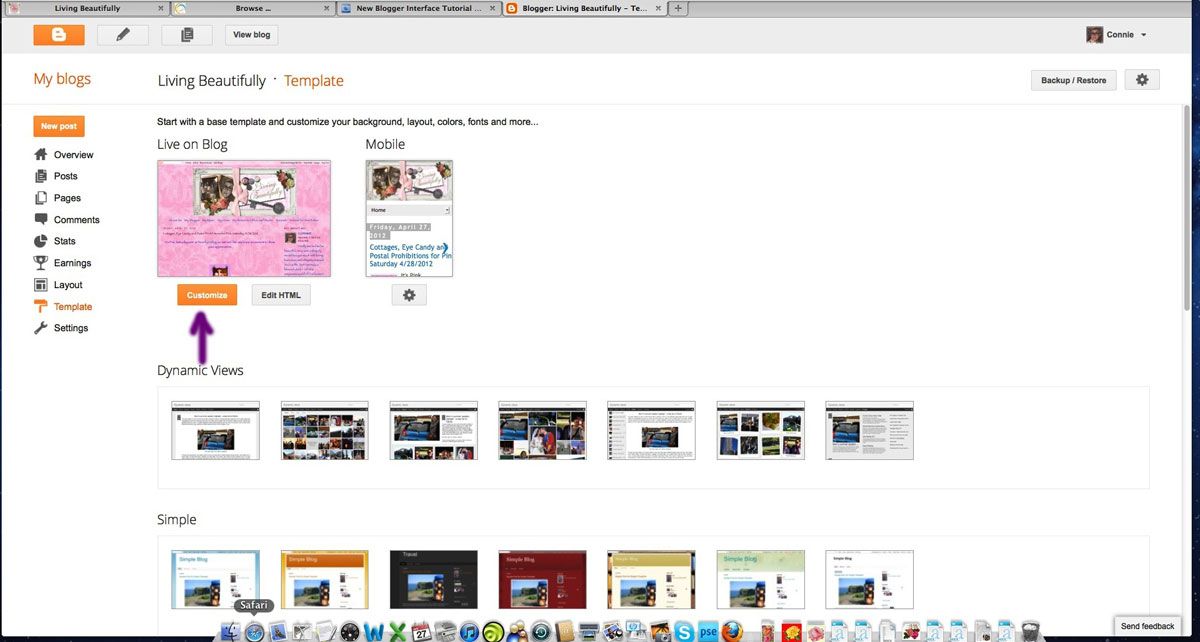 *
Screenshot 11

Then go to Layout as you can see of the left side here where "Layout" is highlighted in white.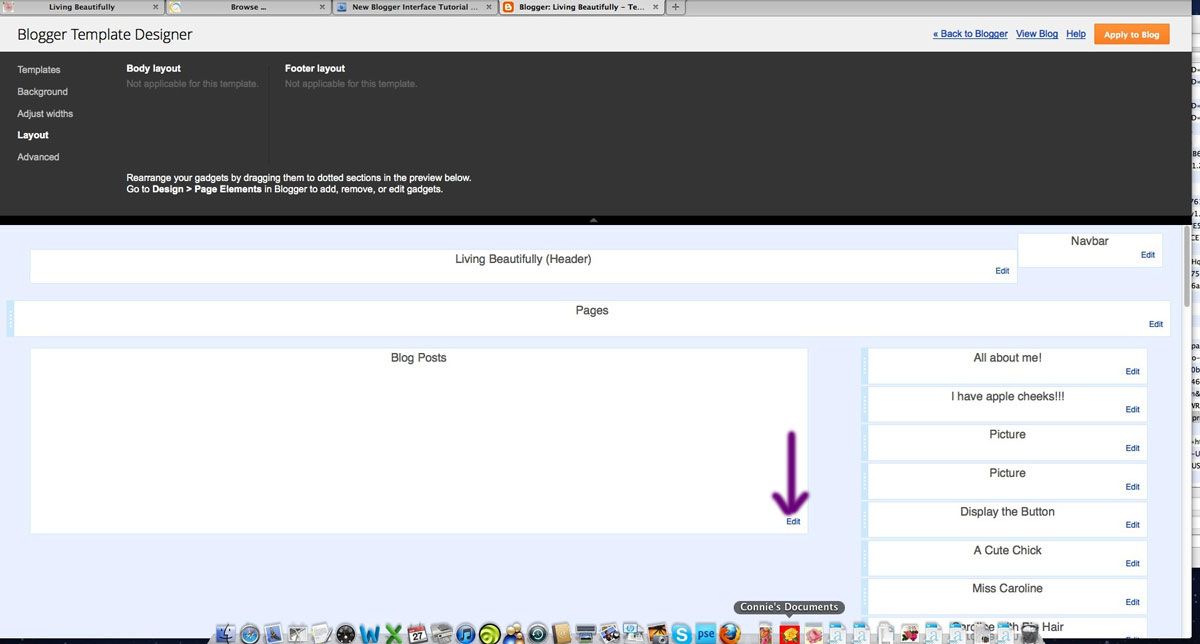 *
Screenshot 12

Go down to Edit. Click on that and you'll see at the top of this page (had to do it in 2 screenshots because
it was too long to capture in one shot) to this:

*
Screenshot 13

and then you'll see at the bottom of the page this screenshot. Put in there what you want to say and then click Save on the lower left corner.
*
Screenshot 14

This is showing exactly what my HTML is looking like for a specific blog post. I want it (the Compose mode) to shows HTML literally, not the Interpret typed HTML.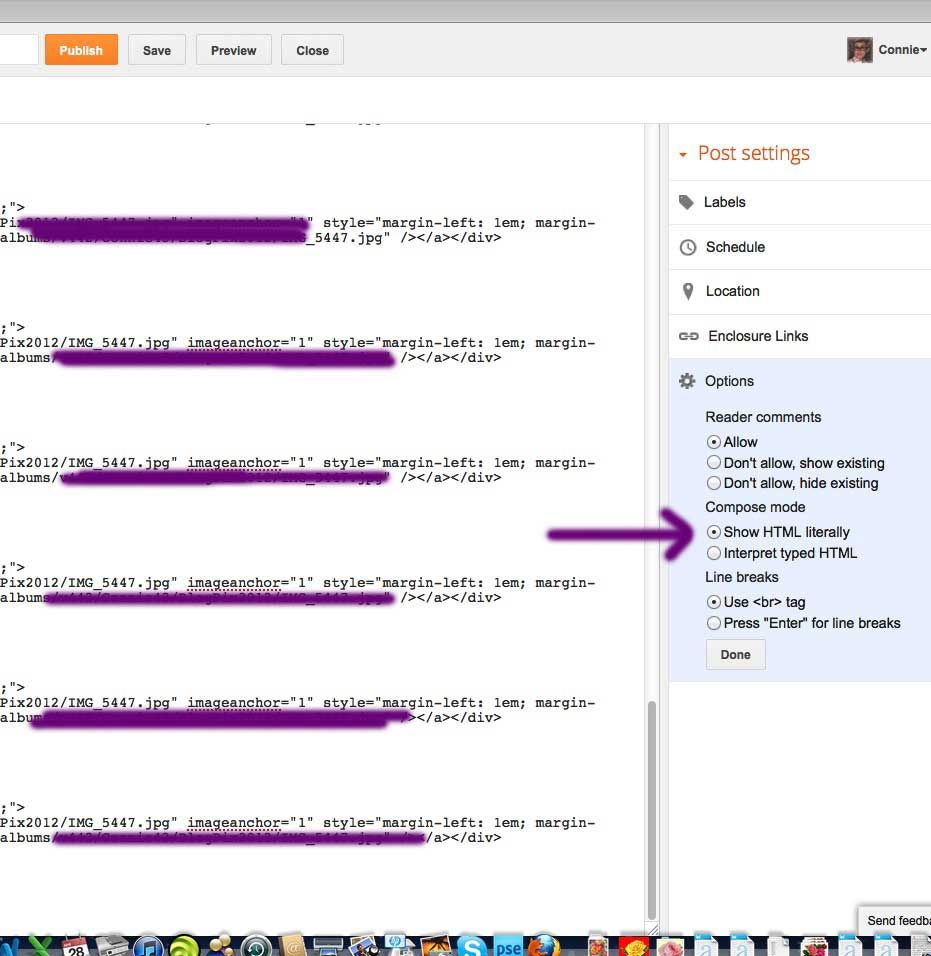 *

Screenshot 15

I've finally decided that the best way is to use a template. Now, it is very easy to create. If any one of you wants to know how, just contact me. Very, very easy. Here is what my template looks like—the actuality of it. Now, I know this looks kind of weird, but this is what my HTML will look like from the template.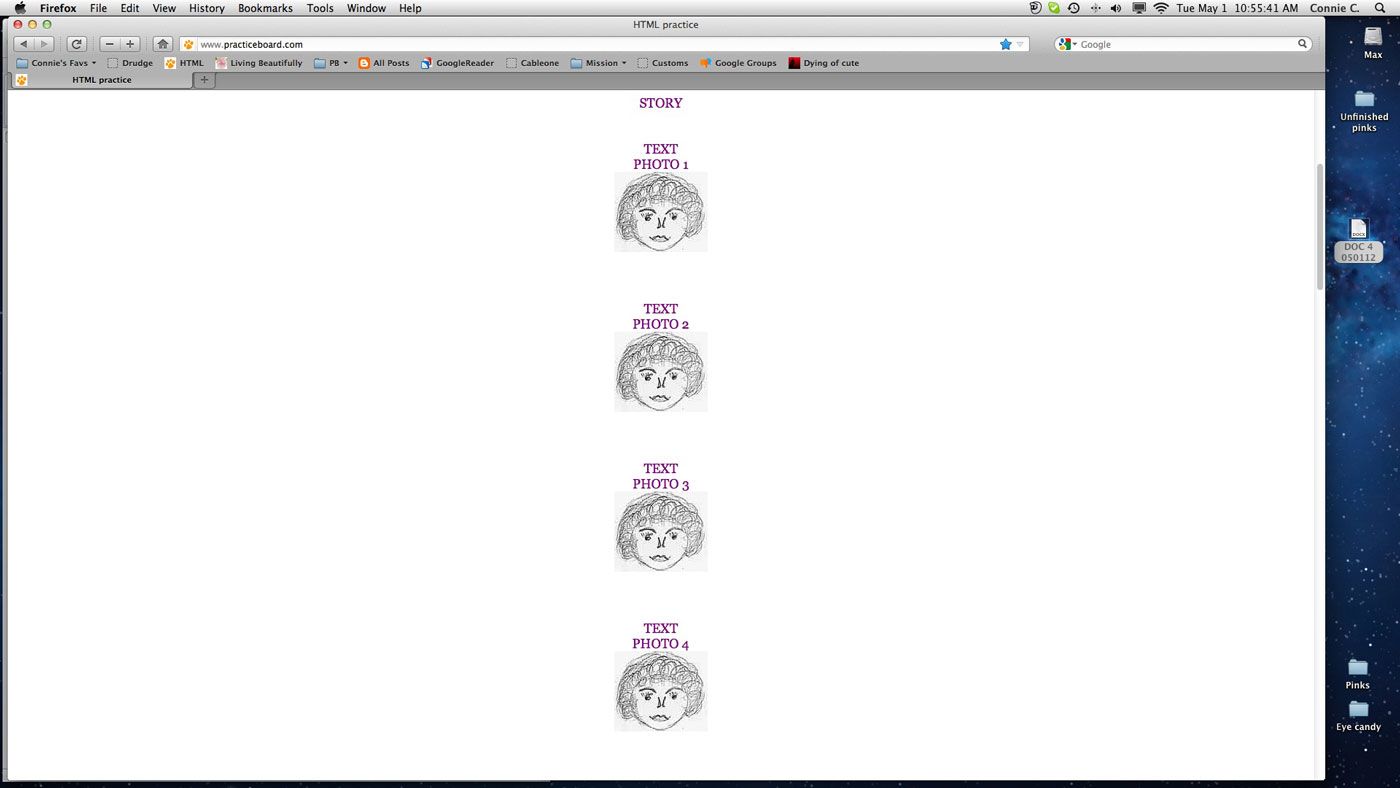 *
Screenshot 16

This is what the actual HTML looks like for the above screenshot. You CAN DO THIS. I've put in a caricature I drew many years ago of what I look like. That photo is my place holder for the actual photos I'll be putting in as you can see in the screenshot below. That HTML is for the caricature. The TEXT tells me where I want to put text or the STORY for the stories I'm always telling before the photos. Using this will give me perfect blog posts and I can use it every single time. First time users will have to learn how to do it but that's the easy part. I color code everything. You can too!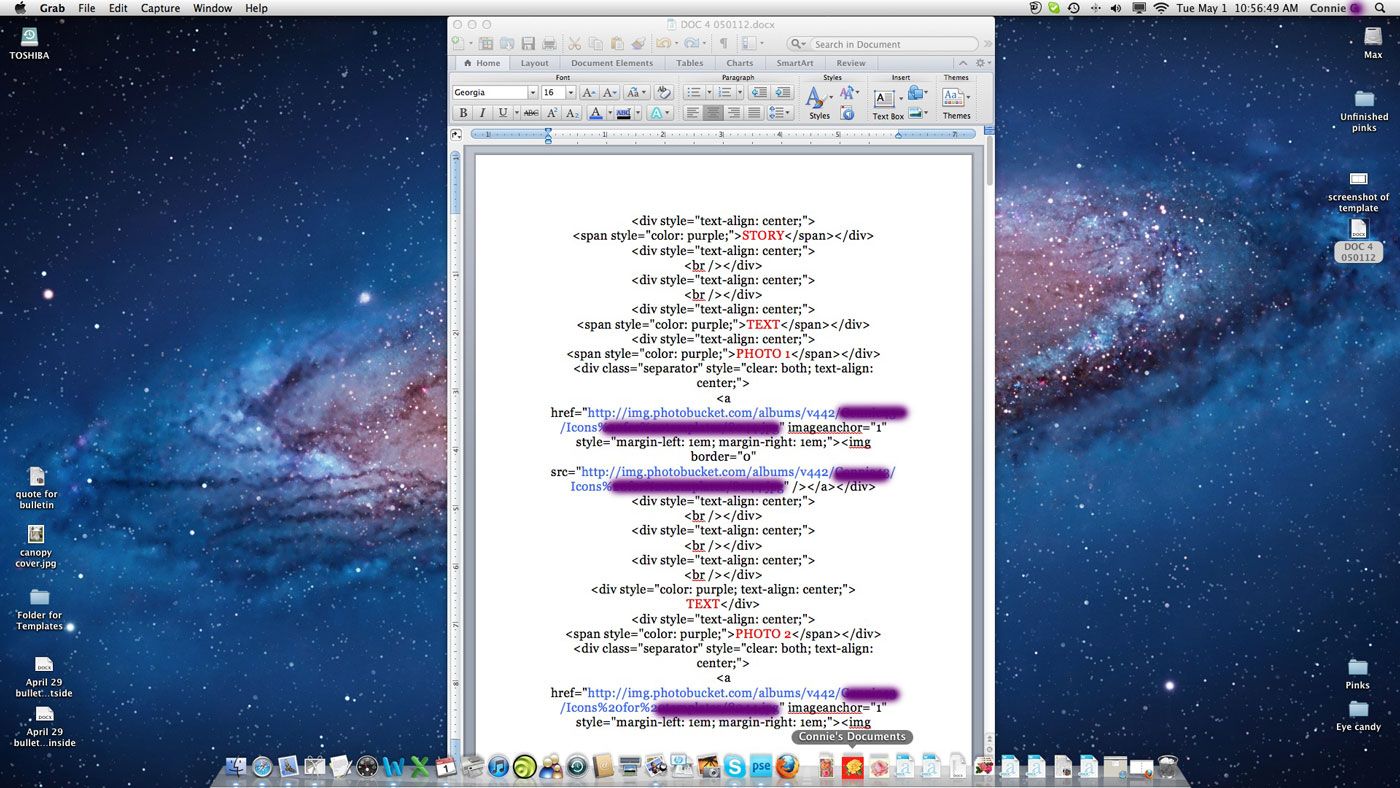 *
Update 5/28/2012
Screenshot 17

Back up in Screenshot 14 I neglected to tell you how I—mainly because I've been trying to work this out and just HOW it works—do the line breaks or in other words the spaces between the photos and text. THAT is the most common problem I see on the blogs and I see it a LOT. It's been a lot of trial and error and I can't begin to tell you how many times I've changed in how I am doing things. But for now—because it kept screwing up!—I am using the Press "Enter for line breaks. You can see them in the screenshot below where the arrow is. I'm still convinced using my own template—very, very simple to use—is the best choice. I have more control over it, but as I've said before, if you are not familiar with templates or HTML you'd better be careful. But, again, use the Press "Enter" for line breaks gives you control over how many lines you have in-between the text and/or photo.

*
Update 7/8/2012
First of all, this tutorial is by no means finished. I'm just trying to cover basics at the moment when I have time. It's been a learning experience for me and I want to help as many bloggers as I possibly can. This tutorial, up to this date, will help you somewhat, but there is definitely more to come.
Screenshot 18

Something has recently come to my attention regarding photos on blogs.
A fellow blogger emailed me and wanted advice on what to do as Blogger had contacted her and told her she was exceeding her limit on storage, meaning her photo storage, and unless she upgraded/bought more space on their site, some posts or photos would be deleted. (I've heard of this happening to several other bloggers also and it is legitimately from Blogger.) But I've done over 1200 posts on blogger and never, ever received such notice and my blog is actually photo heavy. Why? Because I use Photobucket as my image host. It's free for a certain amount of storage but years ago I upgraded to a Pro account for a nominal sum of $2.99 a month, $24.95 a year or $39.90 for 2 years. It is well worth the price for me to not lose any of my photos on my blog. And that is unlimited MBs storage! I have well over 11,000 photos on there. So my suggestion is to not let blogger do it for you. I find Photobucket the absolutely best of any of them. Never, ever had any problems. The very first image hosting website I started with—about 10 years ago now—went out of business overnight and all my photos were gone. GONE! I was frustrated, frantic and very angry. So now I trust PB for all my photo sharing. I do, however, keep them all in my iPhoto on my Mac and have an external hard drive in case anything happens. You do NOT want to lose any photos, trust me. Also, check the setting on the side, which I've shown here in pink. These are my settings and I find them appropriate for me. Your's can be what you want them to be.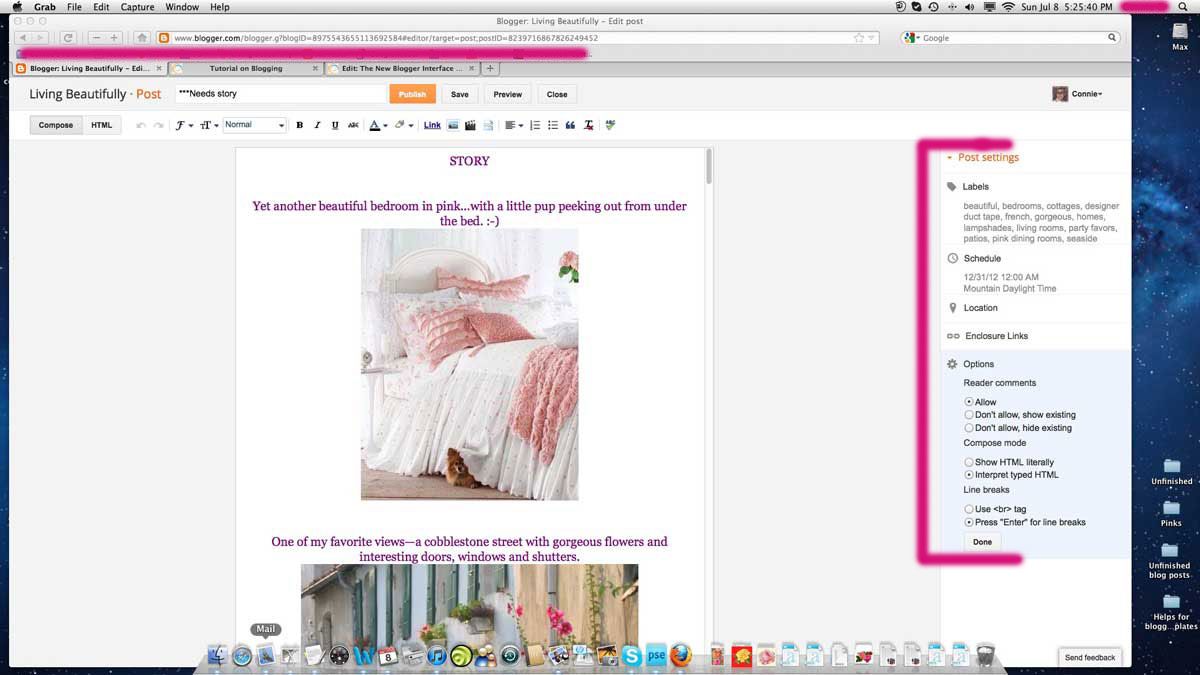 *