Baby Back Ribs (Slow Cooker)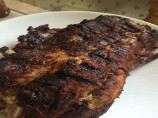 Photo by KAROLINE B.
Prep Time: 20 mins
Total Time: 8 hrs 20 mins
Servings: 8
About This Recipe
"These baby back ribs might not be bathed in smoke, but they still have a lot of flavor. This slow cooked recipe will give you a great set of ribs even if can't prepare it outdoors."
Ingredients
4 lbs pork baby back ribs

1/4 cup barbecue sauce

1/3 cup dark brown sugar

1 tablespoon paprika

1 1/2 teaspoons chili powder

1 1/2 teaspoons salt

1 teaspoon ground cumin

3/4 teaspoon black pepper

3/4 teaspoon white pepper

3/4 teaspoon ground oregano

1/2 teaspoon cayenne pepper

1/4 teaspoon sugar
Directions
Trim excess fat from ribs. Combine dry ingredients and rub over the surface of the ribs. Place ribs in slow cooker or Crock-Pot standing on their edge with the meaty side out. Cook for about 8 hours. Remove ribs from slow cooker and brush with barbecue sauce.

My Note: THE ONLY THING I DID DIFFERENTLY WAS THAT I TURNED OFF THE SLOW COOKER AND I REMOVED THE RIBS. I PLACED THEM ONTO A FLAT TRAY LINED WITH FOIL, WITH MINIMAL JUICE FROM THE SLOW COOKER. I PRE-HEATED THE OVEN TO 380 AND I BRUSHED THE RIBS WITH SWEET RAYS BBQ SAUCE ( WE LOVE THIS BBQ SAUCE) AND WE BAKED THEM FOR ABOUT 20 MINUTES TO FIRM THEM UP A BIT AND GLAZE THEM. THEY WERE AWESOME.

First, we cooked for 6.5 hours on low, and the ribs came out moist and falling off the bone tender. Any longer, and they would have not have held together. Second, we also coated lightly in BBQ sauce when they came out, and then put them under the broiler for 7 minutes. That way, the outside was crispy and BBQ-like, but the inside was moist and so, so, tender. When we make again, we'll take them out after 6 hours, which is plenty on low!