CNA Challenge/Prep/Review Training Class for MT Nurse Aide Certification
---
In MT (and a handful of other states),
you have the option to challenge (Scroll for more.) the CNA Certification Exam.
For the MT NA Certification Exam Challenge:
There is only one chance to pass in this manner.
It is NOT an easy test:
Skill steps that CANNOT be missed are NOT made known.
The written portion demands a higher level of understanding.
Assisting you
As a former long-time CNA
program coordinator, clinical instructor and exam proctor:
Successfully challenging the MT CNA certification exam
is possible with this CNA prep/review course,
the same as used in
my MT-NATP.
(at greatly reduced cost compare)
(For other State Registries info: Contact)
---
CLICK<=TEXT, CURRICULUM, iNSTRUCTOR, & MORE INFO
1. START/PAY ON the CNA CLASS SCHEDULE CALENDAR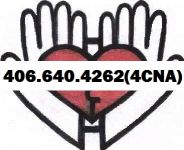 Using
Debit or Credit Card via PayPal
COMPLETION WILL TAKE YOU UPON CHECKOUT to
?? FINALIZE ADMISSION by submitting your
---
As above, after Admission PRETEST Completion,
finish CNA theory and skills prep class
within 1 or 2 months as a
'CHALLENGE' Candidate
(or Refresher for recertification if you let your CNA license lapse).
2. You will need to schedule a MT CNA Challenge Exam: HERE
Challenge/Regional Test Sites' MT State Test Schedule
3. The goal is not only passing the class but scoring well on the MT exam.
Student/Entity duty in this class is to assure your
basic CNA knowledge and skills competency.
Be sure to make use of
all practice tests and question sets provided.
AND=> make sure practice your skills with the videos
and State CNA Handbook
(in a setting like testing-lab/resident-unit with an actor, if possible)
until all skill steps become automatic: smooth and efficiently performed.
---
Student/sponsor agree(s) to H&H policies.
Pretest is required w/payment & completes admission.
Class login will then be established after free admission pre-test
for the remainder of the online work.
---
Check with your State's Registry (MT or ND)
---
Troubleshooting =>
Test Your Network Connections
---