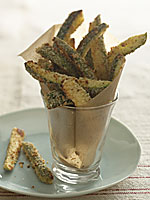 Zucchini + egg + milk + Parmesan + breadcrumbs =Zucchini Fries
Summer zucchini is bountiful right now. And if you (or your neighbors) have a garden, you're likely loaded down with the green stuff. Here's how to put it to delicious use.
Preheat oven to 425°. Cut 2 zucchini into 3-inch sticks. Whisk an egg white in a small bowl, and add 1⁄4 cup milk. Combine 1⁄2 cup shredded Parmesan and 1⁄2 cup seasoned breadcrumbs in a separate bowl. Dip zucchini sticks into egg mixture, and then roll in breadcrumb mixture. Coat a baking sheet with cooking spray, and place zucchini on sheet. Bake for 25–30 minutes or until golden brown. Makes about 32 fries.
Nutrition:
Calories 64; Fat 2g (sat 1g, mono 1g, poly 0g); Cholesterol 4mg; Protein 4g; Carbohydrate 7g; Sugars 2g; Fiber 1g; Iron 1mg; Sodium 232mg; Calcium 93mg
(My friend says to use Panko bread crumbs).