Words are always dessert.
I was sixteen when I first I ate dinner at his house.
And when the plates were cleaned, forks laid down, when it'd seem commonplace to nod thanks to the cook and push back the chairs, his family bowed their heads and his Father opened a Bible.
It was thick and tattered, had a multitude of bookmarks sticking out from all the pages, and he read from that Scripture in an even thicker Dutch accent. Chapter finished, he'd close the book, look around the table, choose one of the sons to close the meal the way it began, in a word of prayer.
And then, only then, would the chairs would push away, the souls fed.
It's the way he was raised, the way his parents had been raised back in the homeland. You never leave the table without chewing the Real Bread. Even if there were cows to milk and you had to run, or you were late for prayer meeting at the church, or you had company for dinner. If you sat down to eat, you never left the table without eating Words.
Because the food served on plates, isn't it the rotting and dead?
"Food itself is dead, it is life that has died and it must be kept in refrigerators like a corpse," offers theologian Alexander Schmemann.
The food served on plates is but a a corpse, the dead food, and when we partake of it, we eat of the dying world. But when we eat Scripture, we eat the only real food, for Christ is Living Bread and eating He who sustains all things, sustains body and soul.
When we eat His Words, we eat of the eternal world.
"Man does not live by bread alone, but man lives by everything that proceeds out of the mouth of the LORD." ~ Deu. 8:3
The Word of God is what is living and active, Word that can revive the hungry and when we eat the Book, the cells in the body, they rejuvenate, enlivened with the true strength.
Broken and starving, I need that.
Eating Scripture three times a day, it's the one spiritual habit that has most changed us — because a body, famished, needs to eat and there's only one way to eat life.
To live Christ-centric is to live Word-Centric.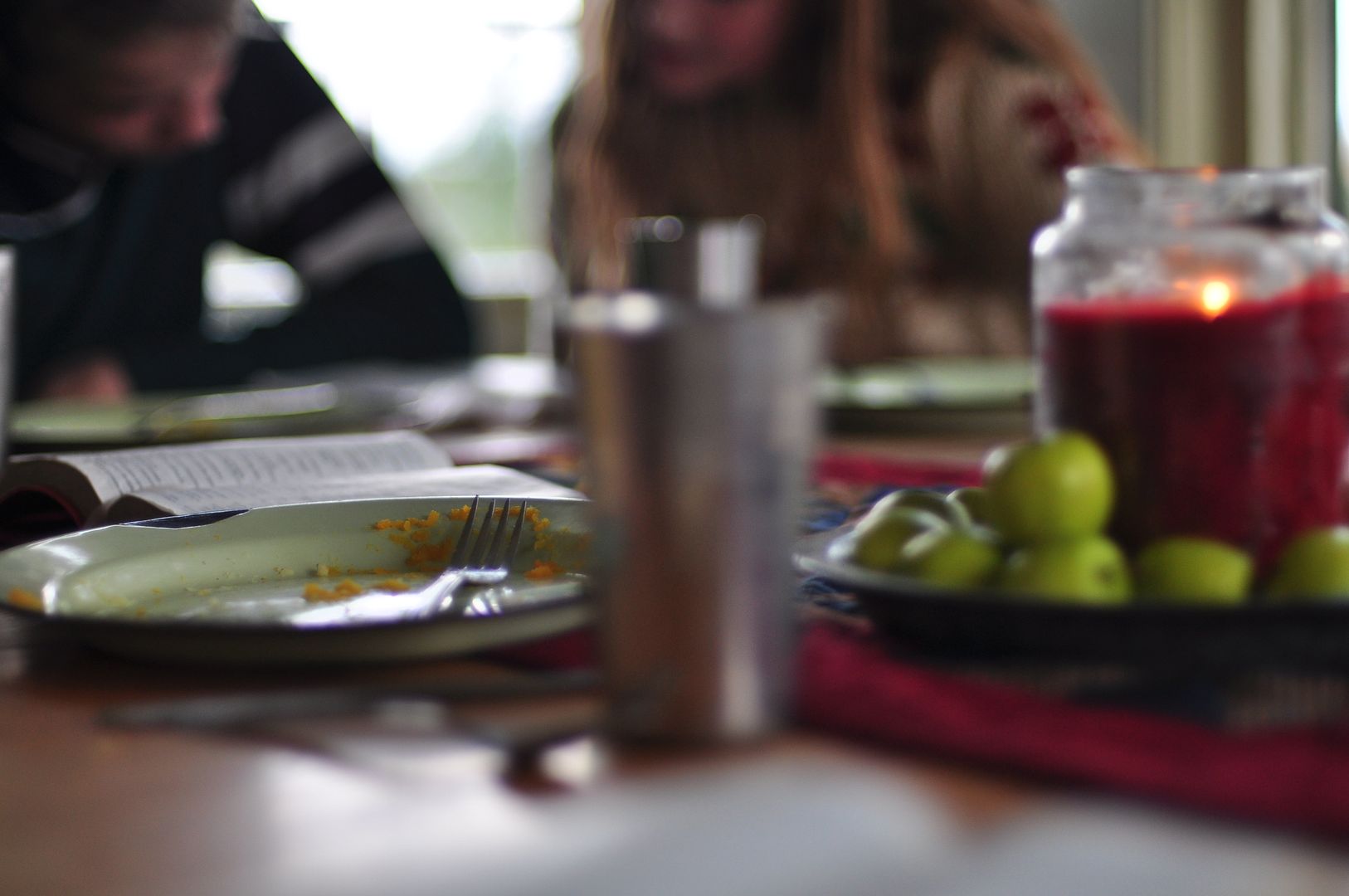 When we married, woke together in a home that we were to make, he first hung a shelf by the kitchen table: a place to keep Food that didn't need a fridge.
This way of eating, the way all his siblings ate now in their own families, it was new to me, a new way of eating, living, being.
It came strange at first, awkward.
But it was his quiet way: he never got up from a meal without opening the Bible.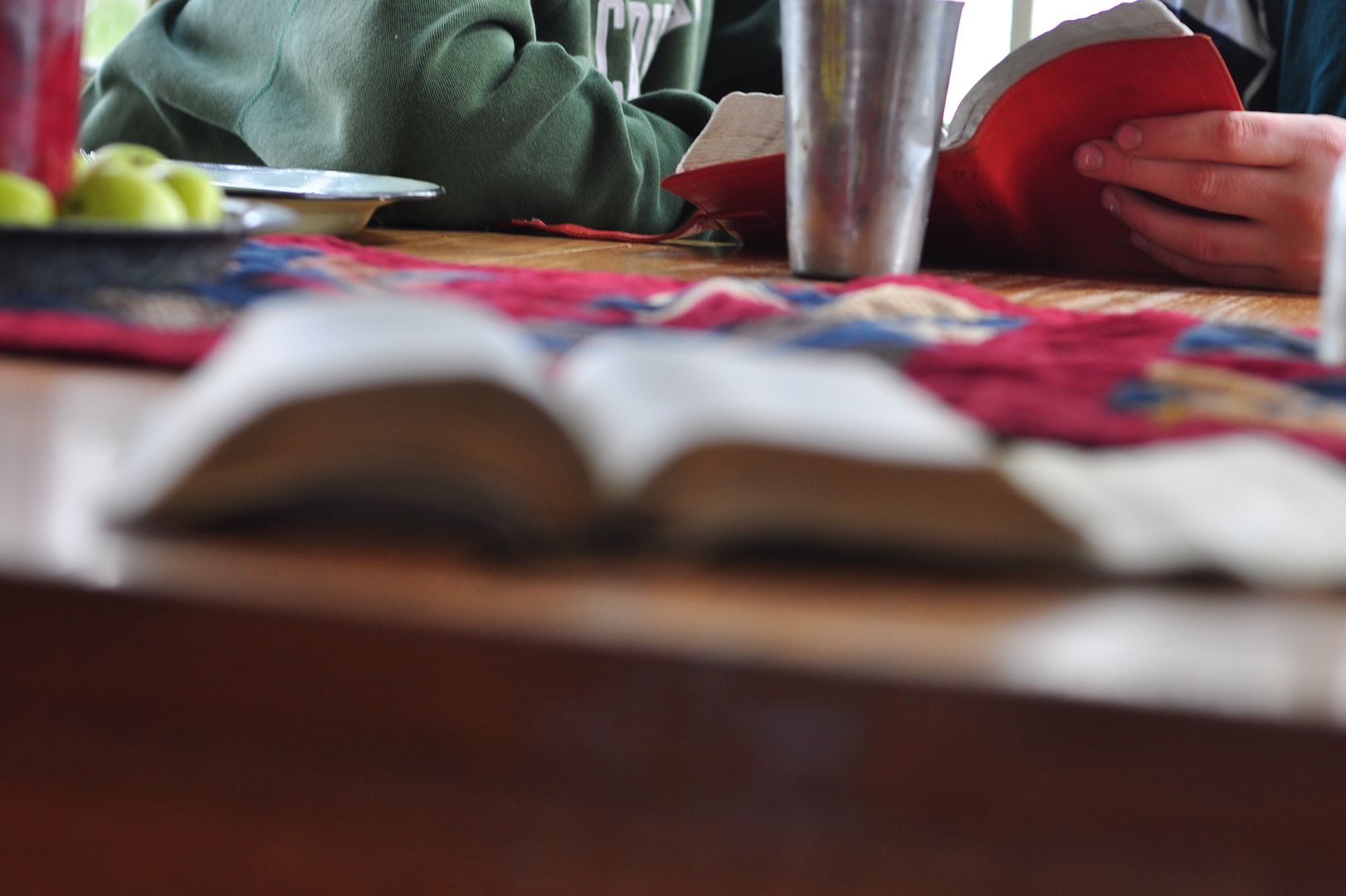 Babies came and toddlers sat at the table. If they ate from a spoon, they too ate the sweet of Scripture, even just a verse or two. Not long, not arduous… but Words, the rich and the divine, our dessert.
Babies cried and toddlers squirmed and company came and we had appointments and there were places to go and work to be done, but Farmer Husband gently taught by simple habits, everyday rhythms, that if we've eaten the dead food, we eat the Living Food.
It's a menu that becomes second nature, like putting a pitcher of water always on the table — its not hard to eat or drink –
What is our appetite for? Who satisfies our hunger?
Babies became children, the toddlers, teens, and the shelf is now a box with a Bible for each one, and we pass them out at the end of each meal and Farmer Husband, he quietly, humbly, takes us through the Bible, a few verses at a time, a book at a time.
Breakfast, lunch and supper, we swallow morsels.
Every family happily eats uniquely, menus and routines and foods that suit their lifestyle, their tastes….
For us here…
6 Ways to Develop the Habit of Daily Family Bible Reading

We read

10-15 verses

at a time, chronologically through a book of the Bible, less with little children, more with older. We want to savor, chew long.

We give

each person their own Bible

, their own serving, so each person can see Words, what they're eating.

We

read the Words aloud together

, eat like a communal meal. Like we help little ones eat with the fork, we help little ones with words — oh how they smile, reading Scripture on their own…

We

discuss, serve the Words around

. Children explain meaning, offer summaries, ask questions. Parents taste conviction, confess, repent.

We

meditate

, listen to the Spirit, let each quietly chew the words

We

close in prayer

, voices around the table, sometimes too with a hymn
It seems long. It isn't.
It seems good. It is — but only for us. But there are many ways for a family to eat Living Words andno one right way. As gathering in each family's home is a beautiful one-of-a-kind experience, so each family eats Words in their own special, creative way.
It seems perfect. It isn't. Days when I sadly want to rush, when children tussle over Bibles (and they are all the same!), when we read too fast and a little cries and no one pays attention. But some meals too are simply edible, hardly memorable –but we don't stop eating. We try the dish again or we change the way we eat or we just smile and set the table with candles next time. Always, we just eat again — we don't give up.
After the plates are scraped clean of after every meal, then always this rhythm that's messy but certain,
"Open the Bible box? Pass out the Bibles?"
The wooden lid opens like a fridge to stacks of Bibles and the only food living, sweet and filling and alive — radical life to the bones and all that hungers deep….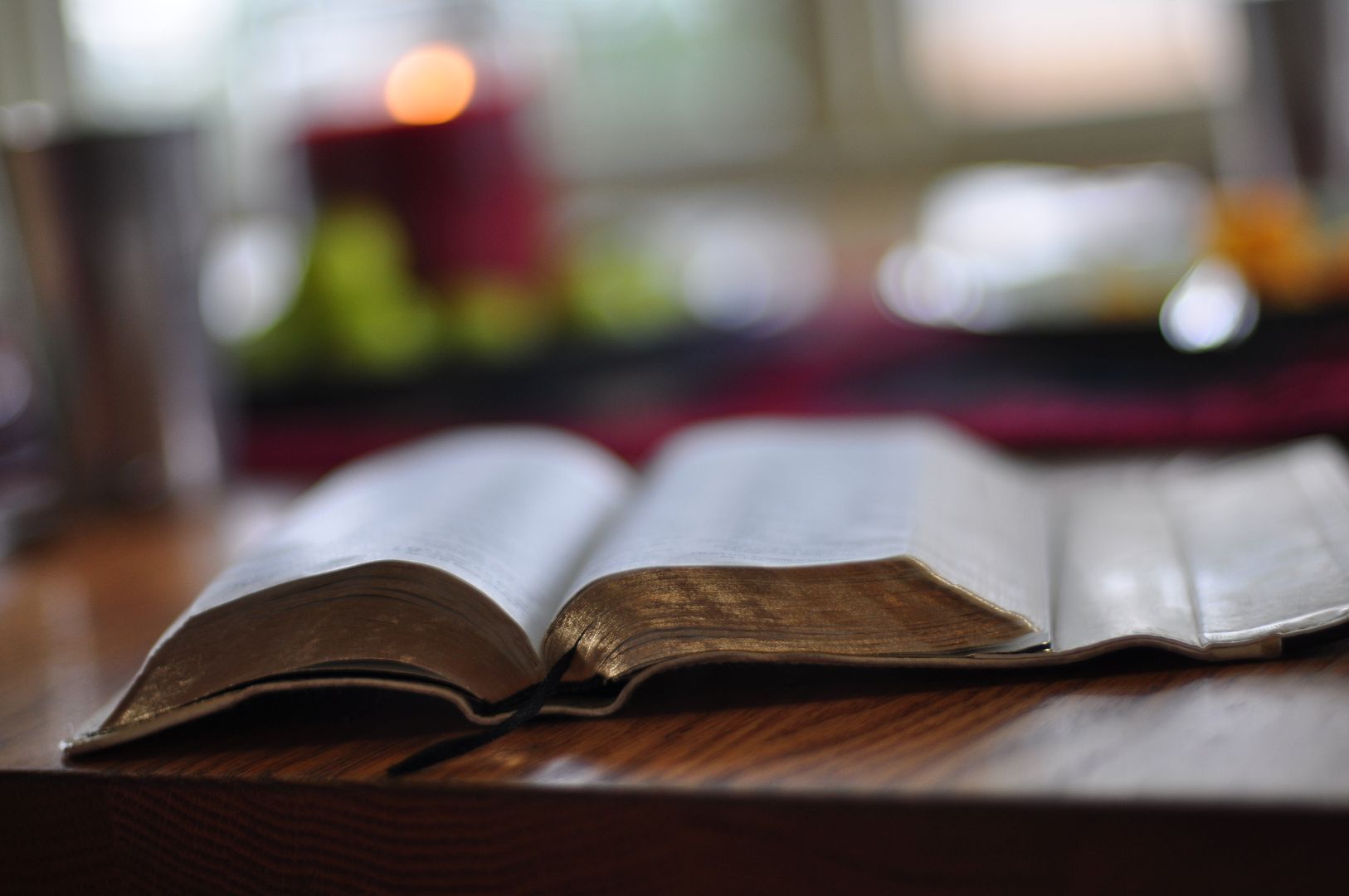 Five Ways to Eat the Bible Together:

There are varied ways to eat healthy, and we often eat differently in different seasons… so it goes with Manna from heaven.

Here are some spiritual diets we've lived:

1. In Slow time…

Instead of swallowing large portions of scripture, certain seasons we eat very slowly, savoring only a few verses at a time by first listening to His Word, reading only a few verses…. then I linger, quietly meditating on those 2-3 verses, turning the words over and over…. then to lift voice in prayer, pray the Scriptures back to God… and then live the Words, contemplate on the verses long, and throughout the day, that hand and feet and tongue might do them.

For more: How to Savor the Bible

2. In Community…

In addition to meal-time meditations, there have been seasons where we've had personal quiet time together as a family, so children see parents savoring truth and parents can model how to eat.


For more: Communal Quiet Time

3. In Audio …

I'm making it a habit that when I clean, or run the morning routine, do domestic tasks, to always slip in another disk of the audio Bible: clean the heart while cleaning the house.

For More: Listen for free every day to the Daily Audio Bible and what I have in the stereo: Inspired By . . . The Bible Experience

4. In a Year …

There have been many seasons where I've read the Bible in a year. Perhaps my most favorite plan was with this plan on a bookmark, that has only 25 readings slotted a month, allowing for five catch-up days. And no flipping back and forth to find the plan…. Just tuck in the bookmarks. And begin whatever time of the year with whatever Bible you have.

5. In Book Repeat …

This way of eating Scripture has yielded very toned, healthy souls and I highly recommend it to hungry hearts. I have found "the book repeat" way of Scripture reading truly lets a soul ruminate on Truth powerfully and effectively. Simply:

a. select a shorter book of the Bible (I've chosen Philippians once, Colossians another)
b. read it through
c. Then repeat, twenty times, reading at a your usual pace, considering the book as a whole meal…

As recommended by James M. Gray (1851-1935), in "How to Master the English Bible"

"The first practical help I ever received in the mastery of the English Bible was from a layman. We were fellow-attendants at a certain Christian conference or convention and thrown together a good deal for several days, and I saw something in his Christian life to which I was a comparative stranger –a peace, a rest, a joy, a kind of spiritual poise I knew little about.

One day I ventured to ask him how he had become possessed of the experience, when he replied, "By reading the epistle to the Ephesians." I was surprised, for I had read it without such results, and therefore asked him to explain the manner of his reading, when he related the following:

He had gone into the country to spend the Sabbath with his family on one occasion, taking with him a pocket copy of Ephesians, and in the afternoon, going out into the woods and lying down under a tree, he began to read it; he read it through at a single reading, and finding his interest aroused, read it through again in the same way, and, his interest increasing, again and again.

I think he added that he read it some twelve or fifteen times, "and when I arose to go into the house," said he, "I was in possession of Ephesians, or better yet, it was in possession of me, and I had been 'lifted up to sit together in heavenly places in Christ Jesus' in an experimental sense in which that had not been true in me before, and will never cease to be true in me again."

I confess that as I listened to this simple recital my heart was going up in thanksgiving to God for answered prayer, the prayer really of months, if not years, that I might come to know how to master His Word."

For More info on Repeat method: Evangelical Outpost: How to Change Your Mind… HT: Tonia
The only way that one really must read the Bible? Regularly…. Like Jesus did it, by habit: "He stood up to read as was his custom" (Lk. 4:26).
Daily…
Just like it is our custom to sit down at the table hungry, and pass down the bowl of potatoes, steaming and heaped….
Then He said to me, "Son of man, eat what you find; eat this scroll…

So I opened my mouth, and He fed me this scroll.

He said to me, "Son of man, feed your stomach and fill your body with this scroll which I am giving you."

Then I ate it, and it was sweet as honey in my mouth.
… a repost from the archives…