Easy-to-Use Online Databases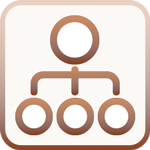 Online Database
Use KeepandShare's database tables to manage lists and 'flat files' of all kinds such as membership rosters, check lists, small 'databases', project data, expense logs, and more.
Easily import & export 'CSV' files to exchange information between KeepandShare tables and popular programs such as Excel and Filemaker.
Simple, fast, high-capacity online database tables. Use from any web-connected computer to securely store, manage and share databases online.
Create, manage and edit web-based 'tables' with dozens or thousands of rows of information.
Try It For Free
Get Started in Seconds
Tables are like spreadsheets but easier - without the formulae.
Quickly view, scroll, edit and share tabular information online.
Edit tables directly online without needing to download the file.
Easily import Excel data using CSV files.
Publish on public web pages or keep private to yourself or your team.
Easy Online Database 'Tables'
Keep Databases Online

Use the KeepandShare 'Table' online database application to create, manage and edit web-based 'tables' with dozens or thousands of rows of information.

One-click Simplicity

View large tables with instantaneous scrolling. Edit tables directly online without needing to download and re-upload the file. Easy online viewing, sorting and printing.

One Version

Keep your database table online where it is accessible from any computer. Any updates to the table are immediately available to all users. Everyone works off the latest information.

Strong Security Controls

You always control who sees what. Easily grant some people the right to only view the online database table, while giving others the right to view and edit the table.

Multi-User

By storing your table online, everyone always views and accesses the most current version of your database information.

Easy-to-Use

Tables consist of a grid of 'rows' and 'columns' containing 'cells'. Think of rows as equivalent to a record in a database. Rows hold 'cells'. Think of columns as equivalent to a field in a database record.

High Capacity

Premium accounts support extremely large table sizes (up to 5,000-10,000 rows depending on your # of fields). All other accounts are limited to small tables of 25 rows. These small tables have all the features of Table, so you can experiment or use them for real work, and then upgrade when you need greater capacity. Click here to view a summary of the many benefits of upgrading.

Compatible

Easily import 'CSV' files into your KeepandShare tables from popular programs such as Excel and Filemaker. Export to CSV file format again at any time.

Hidden Columns

The owner of a table can mark any column as 'hidden', allowing sensitive information such as salary or phone number to be hidden from users who do not have full 'edit' rights to the table.

Copy Protect

If you want your viewers to only view, and not 'carry off' your data, then turn off the ability to download or print your table.

PDF Printing

Print your database beautifully formatted PDF file which you can print immediately or save as a file.

Color Customization

Use our powerful real-time configuration screen to customize all the colors your table uses on the screen. It's easy to match your website theme.

Publish Tables on Web Pages

You can easily publish a table document on a web page by setting the sharing to be 'Public' and copy and paste a short 'embed code'.

Powerful Column Types

Every cell in a column is of the same type and is formatted according to the column type. Every column in your table can be one of these types:


Warning: require_once(../htm/help3/table/incl_column_types.php) [function.require-once]: failed to open stream: No such file or directory in /www/keepandshare.com/webapps/ROOT/htm/free_online_databases.php on line 131

Fatal error: require_once() [function.require]: Failed opening required '../htm/help3/table/incl_column_types.php' (include_path='.:/www/keepandshare.com/webapps/ROOT/global/pear:/opt/php-5-i686/lib/php') in /www/keepandshare.com/webapps/ROOT/htm/free_online_databases.php on line 131